When suddenly three-fourth of the mylot page is occupied by advertisements..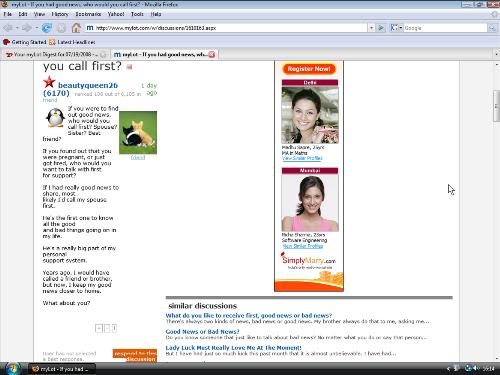 India
July 20, 2008 8:57am CST
Earlier today i was responding to the topics of my friends and suddenly a strange thing happened. The Comment box has shrunk to one-fourth of the web page, and the remaining page was occupied by the advertisement at that time. I refreshed the page, again i saw the same thing..I have taken a screen shot of that topic.. and i have loaded here. Just click to see. Have you ever come out with such a thing, after this recent updates?
3 responses

• India
21 Jul 08
there are so many absurd things happening to me after the new update.i am getting logged off automatically very often. then I am not getting many mails from mylot also. i am not able to see users by ratings, locations etc.

• India
22 Jul 08
Thanks for mirroring what i feel Subha.. take care.

• United States
20 Jul 08
That is defineatly weird for I have never see this or has it ever happend to me. What part of the discussions were you in when this happend? How come I miss out on everything I am always the las one it seems to see stuff like this. I did look at the picture you had of it. Hmmmm strange.... I hope this never happens to me for yah it's right down the middle in the picture.

• India
20 Jul 08
It is all happening here for one week or so, but this one is strange.. thanks for stopping by.

• India
30 Jul 08
The same thing happened to me as well. At first I was kind of confused. Now I have gotten used to it. But still I would say that generally the adverts show up mostly on the top and bottom. That gives a clean look. I feel, mylot has to do it to increase our earning logarithm. Or else how would it cater to our consistent rants! lol.. Thanks.