Do you have a favourite coffee or tea mug?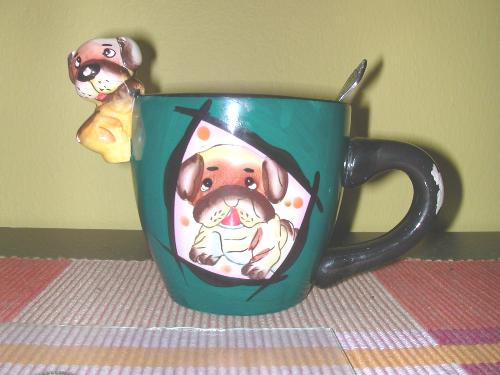 Malaysia
July 20, 2008 10:54am CST
Do you have a favourite coffee or tea mug that you usually use? My 2 year-old niece

presented to me a coffee mug for my birthday. I was born in the year of the dog (chinese zodiac), so they got me a mug that has a picture of a dog, and a little dog hanging over the rim of the cup. I've got a picture of the mug here. It's cute - and I've been using it for my morning and night coffee. How about you? Do you have a favourite mug too?
5 responses

• United States
20 Jul 08
It's funny that you ask this. Yes, I most certainly do. I look all over if someone else has it and get upset if they have it. I use the same one all of the time. It just a white one with two small gold bands going around it. I don't really know why, but it's my fav.

• Malaysia
21 Jul 08
I guess most of us has one - like you, I don't like someone else using my mug. Especially when guests are here to stay, I usually point out to them which mugs they could use; and sometimes put my own mug out of the way, so that no one 'accidentally' use it. Thanks for sharing and have a good day!


• Iraq
20 Jul 08
Lol,

, nice topic my dear I don't think there are similar to it, but I like it. Yes I have 2 mugs one for tea and one for nescafee, and I like them both. Thanks for this nics topic I really like it, have a nice day dear.


• Malaysia
21 Jul 08
Hi Alkurishy, this topic came to mind, as I was looking at the cup of coffee I had in front of me, while myLotting. I wish I could be so creative like you - you could turn out so many topics at one time. Nice - you have 2 different cups, one for tea and the other for nescafe

! Enjoy your hot drinks and thanks for responding, have a good day!


• India
20 Jul 08
Yes,I do have one coffee mug,and as a kid I use to create a great scene if someone else uses it,even if he is a guest. But now things had gone through a great change ,still its my favorite mug,though anyone can free to use it.

• Malaysia
24 Jul 08
My Chinese zodiac sign is a horse and the English one is crab (Cancer). I don't have mugs with these signs. However, during one of my birthdays, a few years back, my brother from Australia bought me a pair of mugs. Written on one of them is "I am Stupid" and the other one "I am with Stupid". Supposed to be humourous. So we posed for a photo. Guess which one did I have to hold?

•
20 Jul 08
I do have one that I prefer, and so does hubby. Mine was given to my son a couple of Easters ago and contained a chocolate egg which is long gone. My husband's is a paisley print and he's had it for years. I'm astonished it has lasted this long as I am a demon for smashing crockery!