Summer time is FAMILY time, right?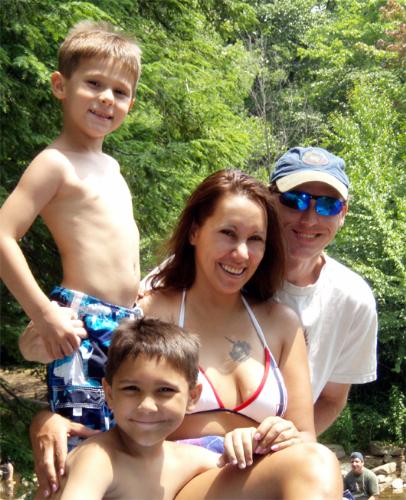 United States
July 20, 2008 11:04pm CST
Do you guys make it a point to plan special events and outings for you and your family more in the summer or more when the kids are in school or during the holiday season?Me and my sweetie took the boys down to the river today to go swimming and yesterday we went hiking (check my pics page for more photos) We also have a "family" vacation planned for the end of summer. But we also plan things for when they are in school and around the holidays. I honestly can't tell when we do more things as a family. How about you? What are some of things your family does, and what time of year do you and your families spend the most time together?
9 responses

• United States
22 Jul 08
Oh yes, We do plan things Saturday we packed up the grandkids, my daughter and son in law too and drove 35 miles to a lake, we had a fun picnic lunch and swam in the lake and got photos of loons, black birds and other things and had a great time. We stopped on the way home at this ice cream creations place and wow for $2.45 they give you this huge whopping waffle cone. Hubby and I shared one it was sinfully good. The kids got what was tiny cones for $1.75 and they were huge too. Wow I don't know what they would have been like with the full priced Giant whopper cone. Maybe a tub of ice cream. But it was fun. Tomorrow we plan work in the morning and then go down to a park nearby to swim. We sometimes go fishing or take hikes we always work and play and balance things out. We play board games or watch movies and popcorn, go sledding etc and have hot chocolate in the winter time.

• Philippines
22 Jul 08
my husband is from a very big family.11 siblings with 8 married and with kids...lots of kids...so for the whole year round,its like we are on a holiday.birthdays come monthly...family day-sunday is always a blast.christmas is definetly HOHOHO.very fine with me cause i come from a very small family...though on summers...we see to it that it is only us...my husband.me and the two kids.we have planned and unplanned trips.usually,summer is spent in the beach...we do serious snorkling...though im the only who has the guts for scuba,white water rafting and sky riding...i didnt go yet,ill wait till theyd get enough will to come with me...check out my pics...

• United States
21 Jul 08
We do a lot of family stuff all year around. We probably end up doing a bit more in Spring & Summer because my sons father travels almost non-stop during those two seaons so he is home almost every weekend.

• United States
21 Jul 08
Cyn I am the same way, there is not time of the year that we are more family orientated. In fact I would have to say even less so during the summer. Summer time just changes the places up that we play together some. But mostly I am getting lazy and spoiled I am rather fond of the spring and fall when things are cooler. I tend to stay inside in the air con as much as I can :)))

• United States
21 Jul 08
We do stuff all year round too. I can't really tell you that either! :)

• India
21 Jul 08
Hi there Mrs. Cyn….you sure look like in some frolicking mood post marriage (fingers crossed here)… I saw the pics, the boys were the best of the lot, they reminded me so much of my own son, specially the one where one is standing and the other just sitting with you with his head on your knee.. my son too loves sitting like that, just resting his head on my knee…oh we mothers, we are the same all over, aren't we? Now back to the discussion. We too don't have any fixed time for outing. As it is, winter is not at all harsh here, rather its quite pleasant but then the winter vacations are short too. So winter outing is max for one whole day with cinema, a visit to any park or the landmarks of the city followed by dinner. On the other hand, summer vacation is a long and boring affair while it is too hot to spend outdoors. So October/November is the ideal time for a break. We also have our most important festival during this time, something like your Christmas. This year, we are planning to go to a hill station for a short trip. Nearer though is the independence day weekend starting August 15th which is luckily a Friday. I hope to catch up on Batman then (yeah…I know the whole world will have watched it by then), but that's the only spare weekend I seem to have.

• Regina, Saskatchewan
21 Jul 08
My family and I take separate vacations. We ignore each other on holidays and never awknowledge special occasions. We may be disfunctional, but we haven't killed each other yet and that's gotta be a plus! LOL

• Philippines
21 Jul 08
Summer time is family time right you are! This is when we could go together in a beach to spend the whole day or two just swimming, feasting and sharing lots of fun to enjoy each moment of rare togetherness. During summer our family would always have at least 4 trips to beaches: one trip for a reunion exclusive for my family and relatives only, another one with our church family, another one with my officemates, and one last vacation for my family only. Summer time is really very enjoyable and apart from Christmas season, this is one of the much awaited time of the year.

• United States
21 Jul 08
I try to spend time with my family year round, but summer is special. Because the kids are out of school, trips can be longer and more random. We can decide to just leave on a Thursday and not return until Sunday. Summer means spontaneity. And I love it!