white island-camiguin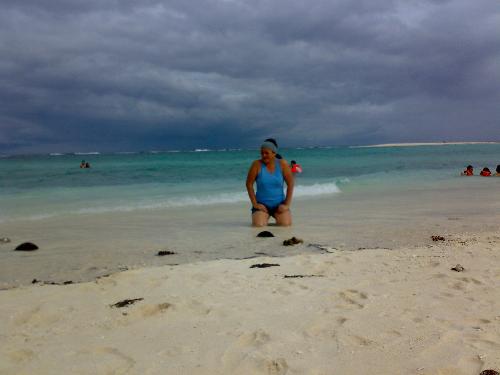 Philippines
July 21, 2008 2:45am CST
tell me if there's more amazing than this:as a birthday gift,my husband brought us to camiguin island,misamis oriental,philippines. people from our hotel talked about a white island just across where we were staying for 2 nights. they kept on pointing on to the vast sea,but we could not see anything. they told us that we go there by a motor boat for about 10min. a 10min boat ride,yet we could not visualize anything in the horizon?what is that?!the next day,by 6am,we were not too eager to go and see this white island.but we did and very very glad we did!along the shore,just outside the hotel,we now could see a white line.we took the boat,as the boat goes near the island...it is really really amazing!the white strip turned out to be the very white sand that is around 2 kilometers long.there was no structure there.i thought there would be restaurants or what...the reason was by noon,the island will be covered with the sea water...it would be gone,then by morning,it appears...isnt that the best?!i have been to places...but this is the best ever...not to mention the view coming back from the island where one could see Mt.hibok-hibok volcano.and...going to camiguin itself by ferry...we saw a big swordfish jumping out of the sea,going back to the mainland from camiguin,we saw dolphins!my husband said,it was a better trip than the dolphin watching in australia...amazing Mindanao!amazing Philippines
3 responses

• United Kingdom
22 Jul 08
Yes, it was the most amazing birthday gift that your husband thought of. Wow! I would love to go to the Philippines for some snorkeling and island hopping. The description of White Island that you give is amazing. It must have been to exciting to hear about this paradise and then embark on a boat ride to try to find it. You were delighted when you saw it and became even happier when you visited this lovely island. Seeing tropical fish is really special and memorable. Seeing dolphins is a magical like experience. I hope that you book a trip like this for your husband's birthday. Happy traveling.

• Philippines
23 Jul 08
i hope u could visit the philippines too...sadly,before i toured my own country,i went to see first the neighboring asian countries. it is only now that i realized how lovely the philippines is...palawan,bohol,the Banaue rice terraces...truly divine...my husband whose work requires him to travel almost weekly all over the philippines,asia and australia- prefers to have a quiet birthday and fathers day celebration.his birthday is on august 1,he will still be working...travelling to Laguna,the hot spring capital of the philippines...we could not go with him because of my brothers wedding in Cebu city,in the visayas region...these two places are to be travelled by plane...will celebrate his birthday though a day earlier...july 31

• Philippines
21 Jul 08
Enjoy the whole of camiguin. You can drive around the island in half a day. There is also this waterfall called Katibasan falls, the sunken cemetary to add to your while island. I don't know if this is the white sand bar that you're referring to. I don't consider it island thought because it vanishes at high tide. It's a while sand bar. If you're up for beaches, that one is a good one but since you're already there, I'd also suggest Katibawasan, and the sunken cemetary.

• Philippines
21 Jul 08
tnx-yes,we've driven to the whole of camiguin.we took a dip at the katibawasan falls.it was unfortunate though that the hot spring was so full of people.we enjoyed the luna restorante owned by an italian and served this authentic italian pizza cooked in a brick oven,amazing!

•
22 Jul 08
Camiguin is beautiful indeed, and Mindanao is great! Thats my where we came from :-)