What Do You Do With Discussions You Started With No Response for A Month?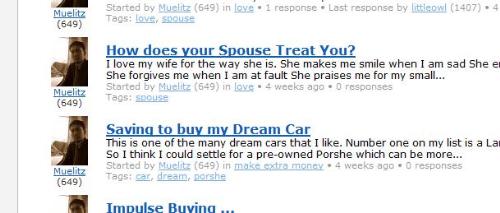 Canada
July 21, 2008 7:03am CST
Do you have some discussions you started that are over 4 weeks and have no responses yet? I have quite a few and I was thinking maybe there is a way it can be reintroduced to the site without copying and pasting it to a new discussion because it is not allowed. I am not saying all but some of the the discussions I started are unique and a good one. What about you guys, what do you do? Do you just let it be?Just Curious, SFC

9 responses

• Indonesia
21 Jul 08
Hi there Muelitz, I have before the same case. every time i see it, i was sad because of it. But i still be patient of it, hope one day somebody will dropping in. And i always respond a discussion of that person who ever he is. Because it's makes me happy they visit my discussion. Happy posting !! oxox'dian

• United States
21 Jul 08
Really, the only way is to get someone to respond. That happens to all of us once in a while. The way I do it is to ask a friend who is a member to make a response, but only if it is old and it is pretty obvious there won't be any activity on it. If they have one too, I offer to respond to theirs if they respond to mine. It usually works pretty well. Good luck.

• United States
21 Jul 08
Some time we just do what your doing, letting people know that you have some discussions that don't have any reply and some one will be nice enough to go to them and put a response on them. I have a couple that got lost during the upgrade. So right now I'll go look at yous and see if I can r

espond to them.

• Philippines
21 Jul 08
i salute you on posting this one..this makes the respondents go over your discussions and somewhat respond to your discussion that dont have any responses...good job..

i hope i could copy this one

so they go to mine as wel...hahaha well honeslty i dont know what to do with those i just simply let it be...

•
21 Jul 08
Hi Muelitz, Yes I think is best yoou leave alone or people might say something about it just forget about it. Tamara


• Philippines
23 Jul 08
well there is nothing much we can do about it. if only i can delete it i would really do. but i think this can be a good reminder that we should not open a discussion like this one anymore. it can be a good lesson. then if ever you get a discussion with a lot of response you can compare both and see the difference and you will know the answer why that discussion is full and that discussion has none

•
21 Jul 08
Have never thought about it but you saying that can you not start another discussion on the same topic but worded differently?? littleowl

• Canada
21 Jul 08
I don't think I hae ever had that problem. I just leave them there and see what happens. They are not doing any harm by bieng up there. Maye some new connecion will take an interest in my writing, and go through my back discussions and respond to them. Who knows?