Goodbye Jay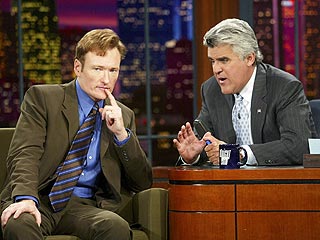 United States
July 21, 2008 7:01pm CST
Lets not say goodbye but please stay! The last night with Jay Leno will be May 29th. That will be the last date I will be watching The Late Show. Conan Obrien should stay on the very late night when nobody watches it. I cant stand non of his crud jokes or even his hair. I think this is another big mistake by NBC. What do you think. How do you feel?
4 responses

• United States
22 Jul 08
I'm with you all the way!!!!! I tried last night to watch Conan again and I can't.Please Jay stay.

• United States
22 Jul 08
I think this is bad news for NBC. Jay Leno can beat David Letterman, but I'm certain Obrien is going to just bring NBC down more. NBC is now in fourth place and certainly isn't going up at all. I am sure CBS is feeling like they are going to easily win the time slot when ABC doesn't have a great program.

• United States
22 Jul 08
It's sad to hear that because I like Jay Leno a lot. His show was always my favorite late night show but I also like watching Conan O'brien so I'm happy that he is going to take over for Leno. On the contrary I think it's a good idea for NBC because Conan O'brien is actually a pretty popular show, at least it is where I live.

• United States
22 Jul 08
I didn't know that Jay Leno was leaving the Tonight Show. I don't watch it a lot but I don't like Conan O'Brien either. I hope that they find someone to replace Jay other than him. I wonder why Jay is leaving?