New In-Laws?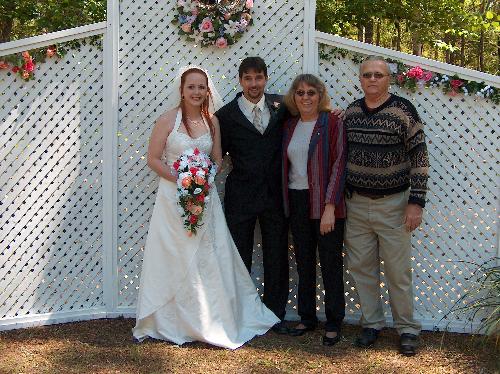 United States
July 21, 2008 11:06pm CST
When you get married you generally only get one set of in-laws, the bride or grooms parents. Unless the bride or groom has two sets of parents. When I got married I got two sets of in-laws, only my husband's parents are divorced. My other new in-laws were in fact his ex-in-laws. Although their daughter and he divorced they still consider him a son and said, "We didn't lose a son, we gained a daughter." They were present at our wedding and took pictures with us as they are apart of the family. Has anything like that happened to you?
7 responses

• United States
22 Jul 08
My husbands parents are divorced, but they gather for major family events that direct affect both of them: our wedding, hubby's niece's birth (actually just the Step-Mom and his Mom were there), and graduations. Overall everyone gets along, which is how it should be. We actually had 4 family photos done so that everyone would be happy. There was one with all the parents, one with my family, one with MIL & Step-FIL and 3 kids, one with FIL & Step-MIL and all the kids (total between the old and new marriage: 6, ranging in age from 6 to 27).

• United States
22 Jul 08
You're right. That is the way it should be. I wish more people were like that.



• Singapore
1 Sep 08
Hello there love, its been awhile since I've answered your discussion. I'm still single and still not married but one day, I would hope to have nice parents in law like you. I think that is something very wonderful to be said by your parents in law. They are awesome and I respect people like that, having a broad mindset and are extremely nice people. Have a good one there and good luck in your life.

• United States
26 Jul 08
Now, that's pretty cool! I am still fairly close with my first husbands parents and siblings. When I went back to Colorado for my 20th class reunion I even stayed with them!

• United States
22 Jul 08
Hi loves, Wow, that is very unique and unusual happening! I am sure your husband has a very good relationship with them! Usually, the parents will hate the ex of their son/daughter because of the separation or if they don't hate, they don't want to meet or talk anymore! I have not heard anything like this with my friends...They don't have any contact of their previous in-laws!




• Canada
8 Aug 08
I'm glad things worked out so well for you.It would be nice if all ex-relatives could remain relatives. I was never lucky enough to have something like this happen to me, but i would be nice if it did. I have to get my parents together next weekend for my huband and my second wedding (we eloped!!!), and it's going o be like re-uniting the Hatfields and McCoys. LOL

• Canada
23 Mar 09
I've never had anything like that happen to me, but it does sound like an interesting situation. How does their daughter feel about them still being close to her ex-husband? I think it is really nice that the in-laws can still maintain such a close relationship with him, and still consider him family. That's wonderful!