Breakfast you like the Most?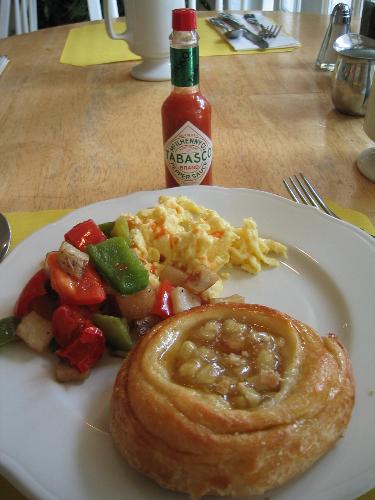 India
July 21, 2008 11:38pm CST
Hi All, What are the items;or rather the Food stuff/ drinks/ Milk etc or combo which you like the most in your Breakfast? My favourite is Wheat or Corn Flakes with Milk (Slightly Hot or Plain ) .Sometimes;I take a few pieces of bread with them . What about you? Please do share . Regards,Icon
5 responses

• United States
23 Jul 08
I love many, many breakfast foods- pancakes (especially flavored ones, like chocolate chips or strawberries), waffles, omelets with lots of stuff, and hash browns especially from the Waffle House (a Southern themed restaurant near my hometown).

• China
23 Jul 08
So nutrious breakfast, I need to learn with you!

• India
25 Jul 08
Friend you have started a very interesting discussion.I think breakfast is one of the most important part while starting our morning.First of all we should follow a saying before coming to a discussion and that is:Early to bed early to rise makes a man healthy and wise.I think it is absolutely true because if we wake up early then we can take our breakfast early.Our elder used to say that we should have a proper gap between our three time meal i.e breakfast,lunch,dinner but we we wake up late in the morning then we cant follow this regime and hence our health will gets affected. In this fast pace of life we don't have a sufficient time for our health and sometimes we skip our breakfast or may take unhealthy breakfast.It is said that breakfast should be heavy but that doesn't mean that we take food in large quantity but it means a healthy breakfast.As we have to work maximum in morning up 'till twelve 'o'clock and their after we got exhausted the reason for that is our body has taken sufficient rest and in morning it is fresh in every sense.So that's why morning meal is very important. I'll take corn flakes and oatmealwith a hot meal.It is rich in iron,calcium,fibre and proteins so I think it is the best and a healthy breakfast point of view and we all should have it in breakfast. Regards Sweety

• United States
22 Jul 08
I like three pancakes with peanut butter smeared on them and syrup poured on them. Also two eggs, a couple of slices of toast. Orange juice to drink and also milk. Also a couple pieces of bacon. That is my favorite breakfast.

• China
23 Jul 08
Usually ,I eat the egg cake and drink the tea for the breakfast which give me so much energy and support for the whole work a day!

• India
22 Jul 08
dear icon_001, my friend, most of the time i take a banana with milk and oats or corn flakes. sometimes i takes Kellog's chocos also i love the taste of it a lot. i love honey coated oats with different dry fruits in it, dipped in my hot milk for a few minutes and then eating them. i find them very tasty and very fulfilling too. for a change sometimes i take boiled egg with bread or bread butter with milk or bread jam with coffee. i avoid taking coffee in the morning time. i take cold milk in mid day and somtime in the night too.