So I Was Talking To (A) God The Other Day...

July 22, 2008 4:38pm CST
...and it really didn't have much to say back to me. I did however get the distinct impression that all the Gods are pretty much fed up with all our petty squabbling over who's God is better and bigger and faster and more powerful... I think the main thought I got from my conversation though was that we should worship our chosen Deity (or Deities) and not worry so much about what (or whom) the person next to us is worshipping. Also, I was given the message that some of you haven't been communicating with your chosen God much lately, and they would really like to hear from you. They want you to study your books and pay attention to what is really being said in them, not what you think should be said in them. So take some time out to communicate with your favorite God today; you have been missed.
11 responses

• United States
22 Jul 08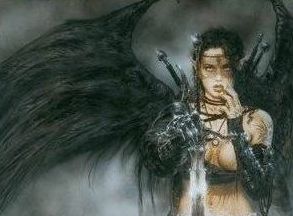 hehe cute discussion. but i know im not one amongst the masses who doesnt communicate on a regular basis. i give a hollar, have a sit down.. whatever.. and chit chat frequently. i dont rely on books and text to tell me whats what.. as written words on a page are simply another humans oppinion and thoughts on things, and while they can hold some worth, i use them only as refference to kinda check my sanity and make sure im not losing my grip up here ..;taps temple;.. when i have a question, need to know something, seeking answers.. or simple solace.. i go to the sources Themselves.. and most of the time, find what it is im looking for, altho some times i get the infuriating answer of "youll know when you need to know" ..makes a face;.. i always ALWAYS get an answer


•
22 Jul 08
I know you realize exactly what I'm saying in this discussion. I just hadda put it out there to see what kind of responses I get. Of course that's why all of our discussions are here in the first place, but...

• United States
23 Jul 08
I agree, I think that I love God, and I do what I feel is needed to maintain a proper relationship with him. If others want to do something else, fine. I think it is sad that killing is going on in the name of someone when we should love and respect each other in our beliefs, just because someone doesnt believe as you do doesnt mean anything bad should happen. IF you truly believe in your "religion" then you should know that in the end, everything will be known, and your god will judge....it is not up to you. (Not saying you as in you, but as in everyone!)

•
23 Jul 08
Oh no, I'm not judging anyone. I respect other people if they worship other so called gods, unlike the true God. I don't want anything bad to happen to anyone, even if they don't believe in God. I would just hope that they get saved before God comes back. I have friends that believe in other Gods, but I still love them.

• Australia
2 Aug 08
I just wish my God(s)would communicate with me!!!I have no idea where I belong and to whom I should be praying...I would certainly like to exercise my free choice but I just wish I could receive a tiny (but significant) ray of enlightenment.

• United States
24 Jul 08
Man, I didn't think there was going to be homework assignments on this site!

I agree with everything that you wrote, by the way. Nice post.

• Canada
24 Jul 08
My God seems to have been sending the same signals and suggestions, maybe all Gods are, maybe not everyone is paying attention, maybe some are just interpreting it their own way. I think you're very right,things would certainly be nicer if everyone concentrated on what their God is telling them and stopped worrying about what the God of the person next door might be saying. I'm glad I stumbled upon this discussion. Have a wonderful day:)

• United States
23 Jul 08
Really nice topic.

Anyway, I think that gods of any sort have better things to do than listen and watch us squabble (unless the only other thing they have to watch are those blasted summer reruns like the rest of us), regardless of what religion they belong to.

• India
23 Jul 08
I always love to communicate with my LORD my GOD often and i can say it firmly anywhere that there is only one GOD and that is my ALMIGHTY .I do strongly beleive in the WORD OF GOD and i'm not religious any more but spiritual person.I was born in some other religion and now got saved by GOD..!! glory to HIS name forever amen..

• United States
23 Jul 08
Hey myklj, so your the one who was talking to God, that's why I got a busy signal-only kidding! You are so right. I make sure that I always have time to read my Daily Word every day. That is a great inspiration to me. Being in a 12 step program has helped me get back my spirituality. We always began each morning meeting with one of my favorite prayers-The Serenity Prayer. That is the one that I live by. That and The Lord's Prayer have gotten me through some of my toughest times. Your message was a good one about studing and paying attention to what you are reading, understanding and thinking about what is being said and practicing the word in your daily life, especially in your dealings with all those around you. Thank you myklj and May God Bless You, Opal

• San Marcos, Texas
22 Jul 08
Really! Glad to hear it and Hope it was educational...

..I always do my best conversing outside since i tend to believe thats where My Goddess is..not in some books