Do you know how to braid your hair?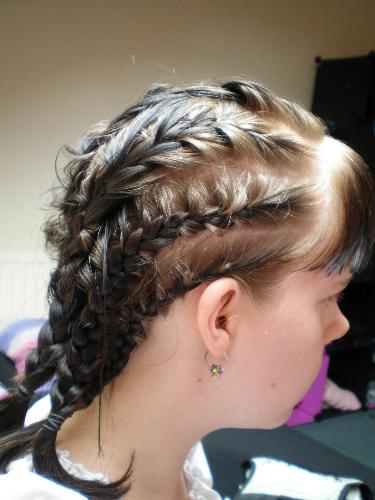 Netherlands
July 23, 2008 9:20am CST
I've allways loved different types of braids, even when I was a kid, unfortunatly my mom was very creative with making cloths, cards and much more but knew little about being creative with hair. A pigtail was the only thing I had and sometimes a french braid but that was basicly it. When I grew older I decided I wanted to do more with my hair and I started looking around for people who knew how to handle their hair. In high school several girls thought me and the internet has been very helpfull too. Nowadays I can do several braids including crown braids and braiding fake hair into your own hair and attaching double end dreadlocks. I love doing stuff with my hair and that's why I'm growing it back, it's about shoulderlenght now. Do you like to braid your hair or your kids hair? Do you know how to braid your hair? This site works miracles, I love it: http://www.dreamweaverbraiding.com/
2 responses

• United States
23 Jul 08
I really can not braid hair, I can do a french braid on myself, but it is hard to braid it all the way down. I have long hair, and I have to pull it to the side in order to braid all the way to the end. I always wear my hair in a braid when I go to sleep at night. Braids are cool, no worrying about your hair getting in your face and blowing all over the place.


• Netherlands
23 Jul 08
True, that's what I like about them too. I also like the wavy texture your hair gets when you go to sleep with a braid in your hair. I allways wanted to go to sleep with a braid as a kid but nowadays I don't braid my hair before I go to sleep because it's a little too short and the loose plugs that come out annoy me more than loose hair

. Thanks for adding to the discussion!

• United States
27 Jul 08
Yes, I like the wavy effect it creates also. You can basically wear your hair down afterwards with have to curl it.

• Netherlands
27 Jul 08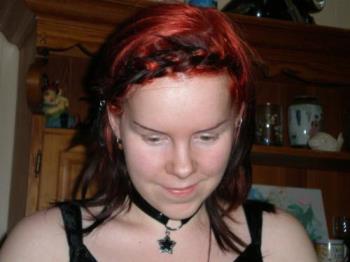 There are many cool braids indeed, this is half a crown braid I did earlier. It's quite easy and fun to do.

• United States
23 Jul 08
That is so cool. I can braid other people's hair but I can't braid my own. My arms get tired, lol.

• Netherlands
23 Jul 08
That can be pretty annoying, I know from fact!

. I try to rest my arms inbetween several braids if I do more then one, but with one single braid it's hard to rest your arms as most likely the hair will losen up and you can start all over again... thanks for adding to the discussion!