friends or boyfriend?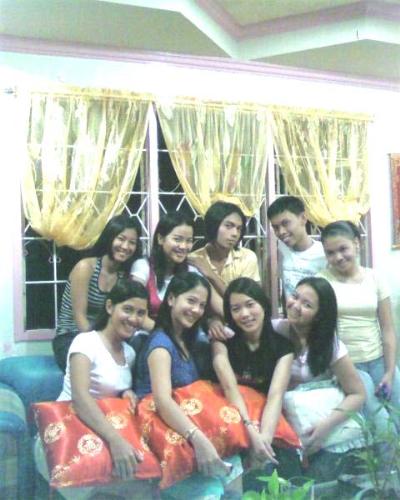 Philippines
July 23, 2008 10:03pm CST
Will you choose your boyfriend over your friends?I have a friend since high school. We are in a group of 11 and she was one of my closest, we were inseparable! But things changed when we entered college, we were apart and rarely see and talked each other. When she had this boyfriend whom we hardly knew, she seem to change. The worst part is she started to detached herself to us. She started not going out with us, not returning our calls or texts. We heard that her boyfriend doesn't like us. One time, I saw the two of them in my school (her boyfriend and I went to the same university) but they pretended not to see me. I was waiting for her to greet me or anything, but she did not. She even turned away! Its was so obvious that I was there because I really made my voice loud so they won't have no excuses. But apparently they acted as if I wasn't there. The last thing I heard of her is from one of my friends, saying that she is in another city for a new work. That's the last thing. I don't know what happened to her. I thought we would be friends forever but she didn't kept that. I am just too sad because after all the things and memories that we had she turned down our friendship. My friends and I are so disappointed of her. I just hope when we'd bumped with each she'd still recognize me...
3 responses

• Jamaica
24 Jul 08
i know how you feel maybe she does not want this guy to pass her by all because of her friends,if she was a good friend for you then she would have never leave maybe its for your own good because she might have dumped you for something less than a guy. if the guy hurts her feelings lets see who she's going to run to. my aunty's ex husband told her that she should never speak to her neighbor but she did not listen to him until one day the neighbor told my aunt that he had another lady a few blocks away from their home pregnant so you see these men have something under sleeves. make your choice with your head screwed on. there are very good friends out there you will find them, all the best. jojuana

• Philippines
25 Jul 08
Thanks jojuana! we don't actually care for the man that she chooses, it's her decision and if she is and being loved by that guy then we respect her happiness. what we are sorry for is the friendship that she is waiting, I hope she realizes that.

• Canada
24 Jul 08
I understand how you feel havign a friend choose their new boyfriend over a friendship. It huts. I could swear up and down that i wouldn't let a guy choose who i see or dump a friend for a guy but...people say that and then it happens. I'd never intend to do that to anyone as I've had it done to me. I like to think I value my friends much more than that. Luckily this friend i have is now married to the guy and shes not so "newly in love" and hes actually willing to share her now and We're starting to see more each other but I must say that between the now husband and how she acted She's lost alot of my trust and it will take a long time before i truly trust her about certain things again...if ever.

• Philippines
25 Jul 08
it really hurts because I value so much our friendship. i must agree that one's the trust has been lost then it won't be the same like the way it was before, but for now, I am still willing to patch things up with her but everything is really up to her... I wish you well! thanks!

• Philippines
24 Jul 08
This is tough. Friends are friends. I always believed that no good relationship can ever destroy another good relationship. I saw similar situation in the past. There will always be a reason why she is acting up that way. And dont trust the grapevine. That will make you drift farther apart from each other. I would suggest that you talk. If it is mandated by her partner and she chose to follow her bf, let her be. there are things that you guys can not give that her bf can give to her. If it is true that the boyfriend is not into you, then ask for the reason. There just might be small understandings between your perceptions. Things will fall into place. Be friends not because you spend time together. Be friends because you chose to be there for her... no matter what. Good day!




• Philippines
25 Jul 08
Thank you for commenting. It's great to hear from you. I think It's an eye-opener. We tried talking to her but she won't to. She won't even return our calls and texts. It's very disappointing. I will just wait when she is ready to open her story to us. Rest assured I am still her friends no matter what.