Honoring death

United States
July 24, 2008 3:20pm CST
A catalog arrived in my mailbox with what I thought was a beautiful necklace. When I read the description, it was sort of creepy. It was a beautiful glass heart enclosed in gorgeous gold filigree. There was a little stopper at the top that you could remove to fill up the heart. It was intended to be filled with a loved one's ashes! I can't imagine carrying anybody's ashes around with me all the time, but more than that, people are sure to have many questions about such a lovely piece of jewelry, and they'd probably expect it to be filled with perfume, as I did. How would they react if they knew it was filled with somebody's remains? Would you keep someone you loved THAT close? What do you think of the idea? If we're fortunate not to have lost a loved one, should we put a lock of hair or fingernail cuttings or something in a necklace? What do you think?
7 responses

• United States
24 Jul 08
As much as I love my husband, who is closest to me, I would not wear a necklace that contained his ashes around my neck. I have a friend who's father was cremated and her mother kept him in an urn on the fireplace mantel. It creeped me out but the both of them seemed to like it and take comfort from having him close so to each his own I guess.

• United States
24 Jul 08
An urn on the mantle is hard enough to deal with. Around my neck? No way!

• United States
24 Jul 08
I know that would creep me out too, I love my husband also, and would always want him with me, but I don't know if I would do that, everybody would think I was weird, I'm weird anyway but...lol. My mother wants to be cremated when she's gone, we all think thats weird but I don't know what I would do with the ashes. I don't think I could keep them on the mantel like some people do, it would just be too creepy and too emotional for me.

• United States
26 Aug 08
There's also necklaces that you can fill with a bit of someone's blood (though this is also done while your loved one is alive). I don't know, hair -- maybe yes, as long as I had gotten it while they were alive, I wouldn't take some of my loved one's remains anywhere they hadn't asked me to take it 'cause I'd feel disrespectful. Some families will pieces of themselves to be given to certain members of the family. Among the circles I run in, skulls are more common to be willed to someone, than ashes. All the same, I wouldn't desire to carry a piece of my loved one everywhere with me unless I was, say...homeless or something. In which case it would pain me to lose it. The idea's not a new one. I'm particularly thinking of older families and tribal traditions. Everyone's got different ways and thoughts about how a loved one's remains should be handled and how we all want our remains handled after we die. I respect everyone's ways, even if I couldn't imagine doing it myself.

• United States
26 Aug 08
You really are an excellent contributor to our discussions!

• United States
24 Jul 08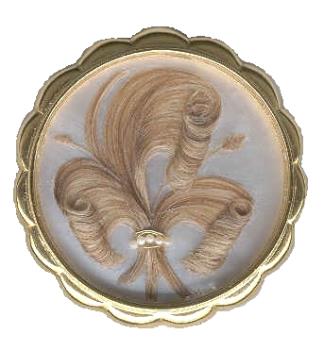 There are people that do just that. In England during the Victorian Era and in the United States during the Civil War People would take the hair of loved one and make it into jewelry. Sometimes it was from a dearly departed one and some times it was love tokens It was not considered morbid at the time. For some people this is just a way of keeping their loved one near.

• United States
24 Jul 08
Maybe that was the idea when Angelina Jolie and Billy Bob Thornton wore vials of eac other's blood? It's fairly gross to me.

• Garden Grove, California
25 Jul 08
cobrateacher hi I imagine most people would be creeped]out with the idea of wearing one's loved one's remains and so am I. No I just could not do that. My memories of my husband sustain me so I would not need his ashes at all. I might put a lock of hair in that heart but no, on second thought memories will sustain me much better so nothing in the heart. just wear it as is and remember all your loved ones.

• United States
26 Jul 08
I agree. My husband said that, if I didn't have sufficient memories when he's gone, we didn't have the wonderful marriage we thought we had. Then he started down Memory Lane and brought up a bunch of things I'm embarrassed to say I didn't remember! I think I need to start a memory book, then turn it into s journal when I catch up.

• Armed Forces Canada, Europe, Middle East
25 Jul 08
I am not one to think about my loved ones body as it being them after they have passed, so I do not think that I would want to carry there ashes around. I feel that their body is only the shell and they have left it, why carry it around with you. I agree that it is morbid to do this but I will assume that there are people that would find this type of thing comforting to do.

• United States
25 Jul 08
The whole discussion shows you're right. I just wish there were a way to keep our loved ones alive!

• United States
25 Jul 08
I have never heard of anything like that before now. That is really strange. I don't think it creeps me out really but i think I would be afraid it might open up while I had it on. My husband and I were just talking to today about whether or not we wanted to be cremated...the ashes don't bother me at all. I guess if it helps someone more or remember then it is a good thing.

• United States
25 Jul 08
I guess the people for whom it's OK will just wear these things, and others won't. I doubt that I coul.

• United States
25 Jul 08
I would never feel comfortable with wearing someones ashes around my neck. There is no way I could do it. Even if it was my husband. Besides I think that it would be hard to move past the grieving and move forward with your life if you had a constant reminder of them around you neck everyday.