We Have A New Addition To Our Family!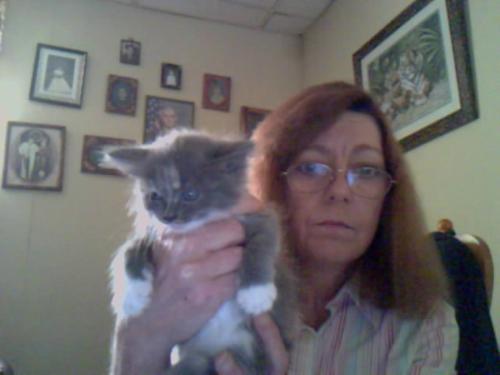 United States
July 24, 2008 6:47pm CST
On Monday I picked up my new little baby kitten from my daughters house. She is only 4 weeks old. My daughter took in a stray cat and this is her second litter. I didn't take any kittens from the first litter. I named my kitten Lucy ( after Lucille Ball). Lucy rode home in my purse, and she slept most of the way home, except when we stopped at the store, the cashier noticed her in my purse and startinf petting her. Lucy is one smart kitten, her mother did nothing to litter train the kittens, so when we got home I put her in my other cats litter box, and she sniffed around and went pee! I was surprised. I then got out a shoebox and made her own litter box, she can't get into the big one, all night I would show her the box, and by the next day she had caught on. I don't think I ever had it that easy before. The only problem I ran into was the fact she would not drink milk from a bowl, but she would drink water out of the bowl, so I kinda had to make her drink the milk. The next day she still would not drink the milk, so I warmed up some water and put in some cat food, and when it got soft I gave it to her, and she scarfed it up, thank god problem solved. Char my other cat was not to happy with me for bringing Lucy home, and her nose was out of joint for a few days, but she is starting to come around. Today I bought some kitten chow and it was to funny!! I was giving it to Lucy and Char was watching, then she came over and started to eat the kitten chow. I was like what the heak, she would push Lucy's face away and start eating, then I pushed Char's face away, and so on. I got the kitten to keep her company as I'm away from home on weekends at my job, and Char only has Timmy the bird for company. Here is a picture of Lucy, I took it with my webcam and she was not happy about it. If you have ever added a new pet to the family, what has your experience been?
6 responses


• United States
6 Aug 08
Yes I know that, but my 5 year old granddaughter is a holy terror, and I didn't want anything happening to my kitten, and the mother cat was not in the house most of the time, these are just a few reasons why I took the kitten early.

• United States
25 Jul 08
Aww-Lucy's adorable. You're right she doesn't looked too thrilled with having her picture taken...my two kitties are the same way...as soon as they see me coming out with my camera they head for the hills..LOL It's been quite awhile since I bought in any new kitties...I'm only allowed two with my landlord...but secretly wouldn't mind another little one. But at least my two have each other for company and fight for my attention..if I talk to Kissy, Pyewacket has to come rushing over no matter where he is and pushes Kissy away

• United States
25 Jul 08
Lol she is cuter than the pic, and me looking all mean in the pic, I was concentrating on getting a cute pic of her, plus I did it 10 minutes before I had to leave for work. She is so sweet though! And already making herself known in the house, as I write she is on my lap trying to jump on my laptop. I know you would love to have more kitties, they are just like kids, they grow and have their own personalities that we come to know and love. I am looking forward to finding out how Lucy will be when she is grown. I'm glad I got her really young.

• New York, New York
24 Jul 08
Oh she is little cutie pie. How adorable, best of luck with the new addition to your family.

• United States
25 Jul 08
Thanks! I'm hoping it will be a good thing for Char, as she needs a friend, I am at my job the whole weekend and all she has for company is the bird. by the time I get home on Sunday I think Char has told me everything that went on when I was gone.


• United States
25 Jul 08
That is wonderful! I hope all works out for you and the puppy! I'm sure you will show it much love. What breed is your puppy? Good people help poor animals in need.

• United States
26 Jul 08
Your kitten is so cute. I am so glad that you found a way to get her to eat. There is nothing cuter than a new baby animal. I have not gotten any new pets in a long time. My hubby says that we go to much to give the time to a pet like it needs to have. I also don't have a fenced in yard for a dog and out we do go to much for an indoor pet. I did once have a ferret named George. When I had my oldest son and brought him home from the hospital my ferret climbed onto the bassinet and looked into it and then looked up at me like what in the world is that. I had never seen an animal with such a funny expression before in my life.

• Indonesia
25 Jul 08
Hi Irishmist, She is a cute kitten. I love to see her picture. Will you upload Lucy picture once again? so adorable.