Kaka VS Ronaldinho

Pakistan
6 responses

• Kuwait
25 Jul 08
without any doubt...RONALDINHO...kaka is good but if you as my favourite its ronaldhino.what about you? you didn't say which one do you like?

• Pakistan
25 Jul 08
Well ur right i like ronaldinho he is my all time favourite player..

• India
12 Aug 09
before afew days ronaldinho is the most favorite soccor player in the brazilian team...but now the kaka'sform make me to change my decession ...

• India
1 Jul 09
Ronaldinho isn't playing very well at the moment. But Kaka is at his best. So I'll go with Kaka although I hope Ronaldinho comes back into the squad.


• Uganda
25 Jul 08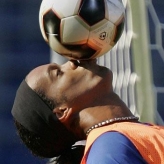 The two are great players-but going by their performance last season, I think they are a bire fo the same kind-all of which were great players whose prolific curve is fast falling!