What are white dogs like?

France
July 25, 2008 4:52pm CST
I like it when i see white dogs,they look different to me, although i don't know what they are like in their normal day,is this race a dangerous race? I hope they are not the race that runs after rats ,mice

and other small and unimaginable things in the underground or garden.
3 responses


• United States
25 Jul 08
White dogs are not a particular breed (or race) they are just not another color like brown or black or tan. A whole lot of dog breeds come in white. Some are mainly white, but not always. The color of a dog does not affect it's temperament in any way. Certain breeds have certain traits, but not colors.

• United States
25 Jul 08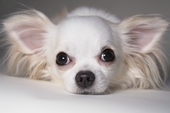 Hi my friend,

White dogs are no different than other dogs. The only difference is that their color is white and not brown or black. They have no bad traits any different than any other dog. In fact, some breeds, the color is mostly all white like samoyed dogs. Happy MyLotting, Char