Well, it's Friday evening and all is well.....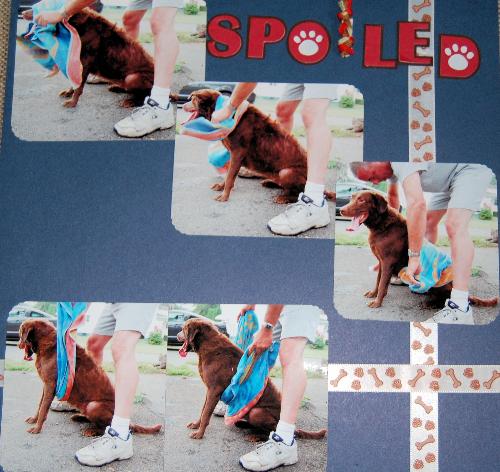 United States
July 25, 2008 6:47pm CST
I'm just doing some scrapbooking, which takes a little longer to do these days, with limited use of my left hand,lol. And watching Overboard on my laptop. My s/o is downstairs enjoying a cold one and watching tv. He bought us dinner so I didn't have to cook tonight, which was nice. And we're just planning on spending a relaxing weekend at home. So what is everyone doing on this nice Friday evening? How's the weather where you live? Anything special planned for your weekend?
6 responses

• United States
26 Jul 08
Good evening, palonghorn. Sorry you are having problems with your hand. I know that interferes in most everything you do. My grandson and I were out all day shopping for school clothes and school supplies for him and his older brother. I help my daughter every year with these things for the kids since she is a single Mom. And, since we were gone all day, my husband called from work and told us to go by and pick up supper for tonight to keep from having to cook. And that was nice! And now we are watching television and computing. Tomorrow, they will both be cutting grass. And Sunday afternoon, I will be getting our son's son and let him stay a few days. He was here last Sunday through Tuesday and he really didn't want to go home. It has really been hot here today in the high 90's and I think that is what is in store for us the rest of the weekend. We did get a little shower today while we were gone, but nothing to write home about. I saw more yesterday in the town next to us when we were buying my mother's groceries.

• United States
26 Jul 08
Sounds like you had a busy day, and keeping busy over the weekend. That's nice that you help your daughter out like that. I'll just be glad to finally get whatever it is fixed in my wrist and hopefully get back to work before this season is over (work seasonal for the forestry, wildland firefighter). But, will have to wait and see, have an MRA (mri with dye) on Aug 5th, and doctor appt later that same day. I'm just hoping I don't have to have surgery!

• United States
26 Jul 08
The orthopedic doctor said it looked like there was one bone chipped, and there is a wider space between two of the bones, so that when I tried to move my wrist one bone tries to push over the other one, this was just what he could see from regular xrays. I injured it when I slipped at work, I work for the forestry, wildland firefighter, it happened on a fire we were working. The doctor said he wanted the MRA 'to prove what he already knows', and then we could 'fix it', which lead me to think might entail surgery.



• United States
27 Jul 08
Well, when ya get done there, I have an attic that needs cleaning up......... lol We are in the midst of buying a house, and I can't wait til all the papers are signed and I can go over and start painting, cleaning up, and getting all the remodeling done so we can move in. And next year we will be adding on an addition to the kitchen, with a room off of it for the washer and dryer, and my scrapbooking space! Can't wait to design and decorate that space!

• United States
27 Jul 08
well, i've been off line all afternoon after something happened to my wireless antenna thingie. So, we had to do some excavation on my craft space so I could get to the back of my computer to find it and plug stuff back in. So, now I have another bag to go to goodwill!

• United States
26 Jul 08
Hi palonghorn, It's great here in our place! We were out Friday night and for the rest of the weekend just decided to stay home and enjoy movies as well as cooking!

It's the practical thing for us to do since we are saving for some projects this year! So, have to cut off activities! LOL!


• United States
27 Jul 08
I always look forward to the weekend, to just do nothing in particular, watch movies, bbq, work on my scrapbooks. And spending time with my s/o, specially now, since I was put on medical leave (see discussion above)lol and am home alone all week. I enjoy when we just take time to relax and watch a movie.

• United States
26 Jul 08
Nothing too fun going on around here. My son is at my parents tonight, tomorrow I am watching the Hannah Montana 3-D concert on TV with him, Sunday night he is going by his Dads. I am hoping to get some poll time tomorrow while he is gone (he broke his arm & can't swim).

• United States
26 Jul 08
That has to be no fun to have a broken arm in the summer. I can give him sympathy on that one, I have had a splint on my left hand,wrist, forearm since mid-April, the only good thing is I can take mine off to let air get to my skin. By next summer I'll be joining you for pool time, my s/o is going to put one in at the house we're buying :)

• United States
26 Jul 08
My plan (if all goes well) is to get the kiddos in bed on time, and SLEEPING, let my fuzzies (two new adorable female ferrets) out and put some picture things together. Just rounding up good pictures to put in frames. I need to send off some pics from my computer to be printed, and I need to get some good pics of my fuzzies. I also have one load of laundry to put away, but the dishes are done. First kid is in the tub. The older has to go clean her room.

• United States
26 Jul 08
Good luck with getting them off to bed on time, been there done that lol. Do share your pics of your ferrets with us).

• United States
25 Jul 08
Well, my hubby just got home from work and we are fixing to eat from McD's. No plans that I know of for the weekend, grandson is here visiting though so you never know what he might want to do. I think it will be very hot and humid here this weekend after we had some good rains and wind from hurricane Dolly. I don't look forward to that at all. Have a good weekend.

• United States
26 Jul 08
I was wondering how much rain and wind y'all got there, was watching it on the weather channel. We got a pretty good squall come through here yesterday evening but didn't last long. Supposed to rain here this weekend. I don't miss that humidity down there at all lol.