Do You think that they should make another Clerks movie?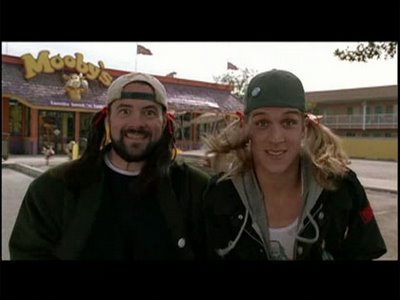 United States
July 26, 2008 3:36am CST
I loved both Clerks 1 and 2 and I think that they should make a 3rd. I love all the characters and the story is just so random. I think that #2 was a lot more popular than the 1st and so I was thinking they might make another movie in hopes that it would be even more popular. I think that the animated series was also amazing. Anyways, What do you think? Do you think they should make another movie? And do you think that they actually will?
4 responses

• United States
19 Sep 08
I really think they should have left it at the first one. I liked the second one, but the original to me was good enough to be left at just that.

•
11 Aug 08
NOOOO they shouldnt make a third movie. i think it ended the series how it was supposed to end. we know that dante is happy w/ his baby momma, randall is annoying all his life, they own the quickstop and jay and bob have a place to hang out and be stupid at. thats all there is to it. i mean i think the only thing they would have to expand on is maybe elias and seeing if he stays christian and straight. but thats it. i felt like clerks was finished the day i saw clerks2. i felt like it had reached the final chapter. you know?

• Romania
26 Jul 08
I am a huge fan of Kevin Smith's movies. I think Clerks 2 is one of the best comedies I've ever seen. I was happy to find out they made a cartoon series, which I immediately downloaded, to my further delight. I hope they ill make another Clerks movie, it would be a great news!