When you go camping, do you take technology?

United States
July 26, 2008 11:14am CST
I've seen so many people who just can't live without their phone, computer, or mp3 players while they go camping! In my opinion, camping is a way to communicate and just spend time with nature. I love nature, so I usually never take anything when I go camping. It makes it more joyful. Can you live without technology while camping?
4 responses

• United States
26 Jul 08
We always have our cell phones with us. You never when you will have an emergency or someone in your family will need to get in touch with you. Depending on how much work I have to do, I may bring my laptop along with us. And if the weather is going to be rainy we bring our little TV/DVD player for our daughter to watch a movie or two on. But for the most part it's nice to just sit back relax, talk, and play some board games while camping. It's nice to get away from all the technology.

• United States
26 Jul 08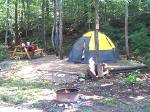 I don't but my husband brings everything except the kitchen sink. He understands the concept of being out in nature enjoying the sounds and quietness, but he has to have his toys

At night he usually will sit around the fire and play his guitar.

• United States
26 Jul 08
To a point, we usually have our cell phones with us, but they are usually kept turned off except for the couple of times we check for messages. You never know when there could be some type of family emergency. The only other thing we take with us is a radio, we like being able to hear the weather, and listen to music around the campfire. I have seen many people with their cell phones on, laptops, etc. seems they just can't go a day without them.

• United States
26 Jul 08
I don't have my own phone, laptop, etc. I always went camping with my ex and we would sleep in a tent and he would bring his phone but I tried to keep him off of it as much as possible. We would turn on his radio in the car so we could have a little bit of music if we had friends down there with us. There is people who go with their campers, tv, satellites on top of their campers, all these luxury items and I would always say they arent really camping they are basically at home just out in the woods with their homes ya know. camping is about being out in nature, listening to all the nature sounds, enjoying the quietness away from the city.