paypall

Philippines
4 responses

• United States
4 Nov 06
PayPal is an online "bank" basically. Giving out your account info, especially to someone you don't know, would give them access to the money you have in the PayPal "bank". Even if you don't have any money in there - they can still charge you for something and get money. Giving your info to a legitimate place (like myLot) is usually perfectly ok because they have safety features that protect your information.

• India
4 Nov 06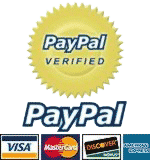 i have been on paypal from many days and i had no problems with it...just verified ur paypal account by registering it and ur transactions are securely done...

• United States
4 Nov 06
I have been using paypal and have had no problems. Do not ever put personel infor thru an email from them. Go directly to the paypal site. Make sure the address has https: the s meens secure. Also make sure there is a lock at the bottom right side. That meens it is a secure site.

• India
4 Nov 06
I have belief in paypal.If you want to earn money in mylot go to good topics by searching topics in mylot.Example "WORLD PEACE" is a good topic."JESUS" is a good topic. "TOP TOPIC" is a ok. Just search these topics in mylot and keep responding, advice others to search these topics and ask them to do the same.