An entire bunch of bananas - consumed!!

India
July 28, 2008 11:49pm CST
I love all the trees and plants in my garden, but I have a special soft corner for the banana trees. I took a lot of trouble to obtain them, in the first place. I had to steal a couple from an abandoned garden. And the ones I purchased from the nursery were so weak that they took ages to grow. Now, they have babies of their own. :) Recently, we got our first bunch of bananas. Now, the banana tree is special. Like the coconut tree, we can use every part of it. We cooked the flowers (the red part of the banana bunch out of which the bananas emerge). We cooked the stem. We cooked the raw bananas. And there were many more remaining that turned ripe. And they were as sweet as nectar. :) I am copying and pasting a link for you. Now, the banana bunch we got was not as big as this one. We had a shortage of water and couldn't water the poor plants well. So, the bunch we got was around half this size and the bananas were smaller. :) It will give you some idea of what my bunch looked like. Just a few ripe bananas are left to be eaten now. http://www.davidmacd.com/images/barbados_st_lucia/100_4807_banana_tree.jpg So, anybody grows bananas here? Cheers and happy mylotting
4 responses

• Australia
29 Jul 08
Oh i love bananas although I am not supposed to eat many as I am on a high blood pressure tablet that say not to eat bananas but i can't give them up altogether...i love them, how nice to have your own tree...

• United States
29 Jul 08
I loved sliced bananas on Rice Krispies or Special K cereal. I do not like eating them right from the bunch as much though. I also make banana cream pies ever so often with day old bananas HAPPY POSTINGS FROM GRANDPA BOB!!~

• India
29 Jul 08
Hi lilaclady, that's really sad. Yup, it is lovely having trees of my own, and many of them have little babies already. I just love bananas too. :) Bob, as usual, you are making my mouth water. :)

• United States
29 Jul 08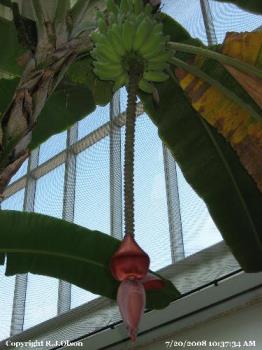 I went to our local Zoo and Conservatory awhile back. The conservatory is various buildings with plants etc from various areas of the world. In the trpoics building I saw my very first banana tree in person. I had never knew they had a flower/bloom such as pictured in my photo. So cool looking. I can't grow banana tress here in Minnesota as they would not last through or cold and snow of the winter months. Unless I built a huge trpoical room for this purpose. I only need about $50,000. HAPPY POSTINGS FROM GRANDPA BOB!!~

• India
29 Jul 08
That was a simply lovely picture, Bob! Thanks a lot for posting it. I added a comment there too. :) Well, you are such an enthusiastic gardener that I think you will end up investing that much for a tropical room. It would definitely be worth it. :) Cheers and happy mylotting

• United States
30 Jul 08
The climate I live in is not suitable for growing bananas. I want a greenhouse soooooo badly!!!! I will grow bananas and figs and limes in it for sure. Hehehe, when I was in Calcutta I got hepatitis and while I was sick I got an intense craving for bananas and milk. My friends brought them to me. The bananas were so small and flavorful compared to the commercially grown, picked green and shipped across the ocean bananas I had always gotten at home. I am very envious of your banana tree! Lucky you!

• India
30 Jul 08
You are right. The home grown ones are the real stuff. The commercially grown ones are no good. And milk and bananas is a great combination. I just love it.

• United States
29 Jul 08

They look great! I love bananas but I do not have a green thumb so I would end up killing them. They only thing I can grow is the flowers I buy from the greenhouse.

• India
29 Jul 08
Thanks for the response. You don't need a green thumb for plants. All they need is water, good soil, compost, and sunshine, and yep, a little bit of love too. :) Cheers!