Caroline Kennedy for Obama's Vice President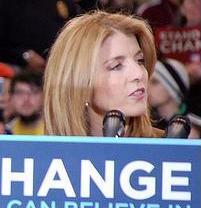 United States
July 29, 2008 3:41am CST
If Barack Obama wants to guarantee the election of 2008 and 2012, he needs to choose CAROLINE KENNEDY as his running mate! I would be willing to bet that she is as, if not more, qualified than anyone else on Obama's or McCain's short list. If he really wants to change things this would be the sure way to do it.
1 response

• United States
29 Jul 08
I don't think so. What political experience does she have. Just because she is the daughter of a former president, does make her a VP candidate. Hopefully Obama will team up with someone who understands the political process for both domestic and foreign.

• United States
29 Jul 08
Caroline Kennedy is an attorney and a co-author of "The Right to Privacy" and "In Our Defense: The Bill of Rights in Action". From 2002-2004, she served as chief executive for the Office of Strategic Parnerships for the New York City Department of Education where she helped raise more that $65 million in private support for the city's public schools. She currently serves as the Vice Chair of The Fund for Public Schools. Ms.Kennedy is the President of the John F. Kennedy Library Foundation and is a member of the John F. Kennedy Profile In Courage Award Committee. She is a Director of the Commission on Presidential Debates, and the NAACP Legal Defense and Educational Fund, and serves as Honorary Chairman of the American Ballet Theatre. She is a graduate of Harvard University and Columbia Law School.(From the John F. Kennedy Library Foundation website.) Her family's experience in politics and the influential people and World Leader's that they know would be an asset to her and to the Obama Presidency. She would be a great deal of assistance in campaigning for the critical Women's vote and (those of us who were supporters and fans of the Late President John F. Kennedy and Senator Robert F. Kennedy) that Senator Obama needs.

• United States
29 Jul 08
I meant to say "crucial" not "critical" in the response above.