Albert Einstein saying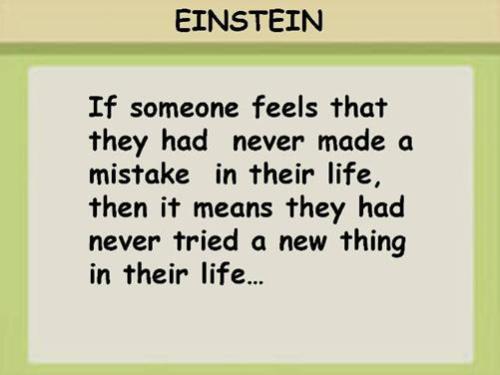 Iraq
July 29, 2008 1:50pm CST
Albert Einstein saying: (
If someone feels that they had never made a mistake in their life, then it means they had never tried a new thing in their life
) I think it is right if we never try new things in our life and don't try to do these new things we never learn from our mistakes. What do you think about that?


5 responses

• Canada
30 Jul 08
More wise words posted by one of my favourite MyLot friends!!

• Iraq
30 Jul 08
Thank you mu dearest friend, for the complement and for your response, and have a great day.



• Denmark
29 Jul 08
Well what can i say, you and him already said it all,i can only agree with it, i guess people who stick to what they know,and to what they know it's right they will most likely not make many mistakes in their lives,while people who live the moment and take any oportunity, probably half of their decisions will be wrong but at least another half will be right:)

• Iraq
29 Jul 08
It is nice to know that agree with this topic, and I think that the people you have mention to who live the moment, they do learn from their mistakes, and it is not the matter of how many mistakes we made, but the good thing that we learn not to do this mistake again. Thanks for your response and have a nice day.

• Sao Paulo, Brazil
31 Jul 08
Hello, alkurishy! Albert Einstein was a genius, but just because of that it doesn't mean that we should trust in everything he says. I mean, we should not just look at who said the sentence and then think: "It's truth, because Einstein said this". Instead, you should put this in your life and try it. If the experience you get matches the sentence, then it is really true. You can do this just by thinking. Think about what he said... He is saying that everyone who tries a new thing in their life makes mistake. Well, I guess it's truth, you have great chances of making a mistake if you are new into something. However, there are cases in which you can just be lucky, isn't it? What I mean is: don't try to take as a life path a quote that you have seen. Instead, create your own sentence and make others see how true you are. Respectfully, Munhozmib.

• Iraq
31 Jul 08
Yes, but we can learn from old quote too, to someone who don't try it before. Thanks for your response and have a good day.


• Iraq
30 Jul 08
That is so good saying, thank you for your response my friend, and have a nice day.

• United States
5 Aug 08
That is a wondeful saying my friend and I agree with it and you one hundred percent if we never try new things,we never make mistakes,and if we never make mistakes then we never learn from them and improve ourselves,because every time we make a mistake we learn something new and we learn what we should not do,or we learn that there is a better way to do something.