Cat schedules

United States
9 responses

• United States
9 Aug 08
Oh heck no! lol I have 9 cats and there's no way to remember who slept where and when. They all have their own schedules in which they do as they please when they please. Every chair is a place to sleep, every kitty/dog bed is for them along with our bed and the spare bedroom bed, couch and where ever else they find. It's like kitty city here! lol

• United States
11 Aug 08
I have this one picture of four of my cats and three dogs. I was taking a nap on the love seat and woke up to all of them laying around or on me. lol Daisy is the calico in front, Rascal is stretched out across me, Bobo is on top, Music is beside me with his face kind of hidden beside my face and then Peanut is looking at the camera, Missy and Lady are at my butt. lol

• United States
11 Aug 08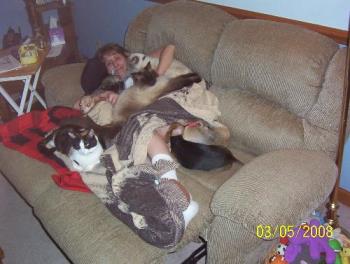 I have this one picture of four of my cats and three dogs. I was taking a nap on the love seat and woke up to all of them laying around or on me. lol Daisy is the calico in front, Rascal is stretched out across me, Bobo is on top, Music is beside me with his face kind of hidden beside my face and then Peanut is looking at the camera, Missy and Lady are at my butt. lol


• United States
15 Aug 08
Our cat is now older so she sleeps alot. She does love to spend time straightening out her litterbox. The time she wants to play or get my attention seems when I am trying to sleep at night. I finally had to put her in another room at night with her food, water and litterbox so I could get some sleep. I do like watching her during the day. She likes to pick on the dog.

• United States
3 Aug 08
My cat used to sleep alot though I always kept him inside and never let him out I was so afraid he would run away even though I had him fixed. He would play around in side a little but not much. I recently in the past couple of days decieded to give it a shot and let him get a taste of the out doors by opening the window so he could go out. I would constantly check to make sure he was near for I live in a apartment complex on the 1st floor and he would be real close not wandering off to far. I am glad that he likes the out doors and dosn't sleep alot now but galavants chaseing bugs, birds, ect. and he comes back in when he's done with the out side and will nap which isn't much except for at night when I keep him in for the night.

• India
31 Jul 08
Thanks for your discusstions. I never had experience of that much regarding the sleep schedule as am a office goer. My daughter used to say that her cat sleptfor hours a day and they used to play with her and they both enjoyed playing. But she used to keep schedule for giving them milk.

• United States
30 Jul 08
My Josie sets my schedule. She wakes me up in the morning. Helps me in the bathroom. Takes me down stairs and waits for breakfast. After breakfast is naptime. She sits with me as I have lunch. And if I take a nap, she is with me. She tells me when it's time for dinner and watches TV with me in the evenings. Bedtime is announced by her and we go up together. None of the others take such good care of me.

• United States
30 Jul 08
That's so sweet. Aw, I love it. Mine all know that when I make dinner, they get some samples, so as I cook, they all sit near by watching. They can all be sound asleep; and if the can opens, they poop up and come running. I've used this to find one periodically when they find "too good" of a hiding spot to sleep in.


•
29 Jul 08
Mh4444, My cats seems to know their food time I never have call them and my female just sits at at her bowl and stare at me, then soon as they have their meal there ar off outside. They come in when its getting dark and go to bed on my chair, one downstaires here and my Tom goes uostaires into the spare room to sleep. Tamara

• United States
30 Jul 08
Mine don't really have their own "spaces". They do have places that they sleep and they appear to switch these often. I think they all vie for the bed at night. I have a first come, gets to snuggle with us at night in order to have room to sleep. LOL One of my kitty babies snuggles in my arms at night. I love it. She is such a sweetie.



• United States
29 Jul 08
The cat and the dog both like mid morning naps after they have finished their breakfasts. The differnce is the dog gets up after awhile and goes outside and the cats nap continues until the early the evening. The cat is genrally awake from 6 or 7pm until around midnight. The dog goes to bed around 8:00 until the next morning unless something exciting is going on.

•
29 Jul 08
Yes, I have 3 cats (a 4th added today but not counting) that have a clear schedule. They sleep from 9AM til 12:00 up for a few hours then to sleep again no later than 6:30. Then one of mine watches TV (no kidding, loves animal planet) from 8 to 10. Then they all go eat and lay around till Midnight. At that time they are up for the rest of night galloping thought the house like a herd of elephants, LOL.

• United States
30 Jul 08
That sounds so familiar. Mine are all night owls. I am trying to get them to sleep through the night by keeping them awake during the day. Only one so far comes close to it. My cats all watch television. In fact I have a picture of my adopted new kitty "Libby" watching the television on my website podcast. (Check it out). She's so into the television. We all love the animal planet.