Could this be true?

Philippines
July 30, 2008 2:47am CST
After two weeks of "suffering" for not being able to post a new discussion in my life, here I am now, starting a new discussion. Well, 2 weeks ago, the administrator here in the office decided to block mylot because it's taking too much space in the system (he says). An IT staff however gave me a proxy so I can enter the site still. The downside however is that, I cannot start a new post. It was devastating, but then I decided, at least I can still reply to discussions, better than nothing. Right? Then now, I decided to start a discussion by clicking the "New Discussion" button again. I've been doing that everyday without luck, but guess what? I got lucky today! Wow! I can't believe this! Is this really true? Is this a system glitch? Maybe tomorrow my luck will change back to the normal "bad luck" again? Sigh! I hope this will be posted today, it'll definitely feel good to be able to start a new discussion again...
5 responses

• New York, New York
30 Jul 08
Hi, keep your fingers crossed, maybe it will stay like this for you. Enjoy your day.

• Philippines
30 Jul 08
Sigh. It's actually the end of my shift and I have to go home now. I was able to post 2 new discussions and I'm hoping this will continue. It'll break my heart if I won't be able to post a discussion again tomorrow... Thanks for the positive words... God bless...

• France
28 Oct 08
Well, That's great you was able to do it, Wish you could do that again


• Philippines
28 Oct 08
Yeah, I have been having a hard time with proxies lately, I've been changing proxies since the admin is blocking them one by one. As of now, I'm using a proxy that somehow allows me to start a discussion, respond to others' discussions but it doesn't allow me to use any myLot code (emoticon) or start and reply to a private message. Well, it's better than nothing I guess...

• Canada
30 Jul 08
Well, you've managed to start two that I know of

Keep the proxy settings. I am my company's system administrator and I've had to lock down some sites so that my people can't get to them. There are proxies available that will give you unlimited access. I use an "anonymizer" proxy in Moscow, which is a proxy so that my IP address can't be captured by websites when I surf and I can't be traced.

• United States
30 Jul 08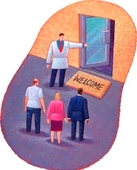 Hi my friend, Welcome back! I wondered where you had been hiding at!

So is this the office that you work at? They blocked MyLot? So interesting! What kind of office do you work at?Well glad to see your back post new discusstions. Maybe I'll have some good discussions to respond to now.

[i]Happy MyLotting, Char[/i]


• Philippines
30 Jul 08
Hehehe... They just don't want us to put our free time in good use.. .ssshhh... I'm actually working in an SEO company and my job is to read blog posts everyday, evaluate them, email the bloggers for errors, rate them, then pay them... I'm not busy all the time, so I keep myself busy with mylot... I'm crossing my fingers, I'm yet to post another discussion later... I hope I can get through... Thanks for responding.. Have a wonderful day!

• Philippines
30 Jul 08
That's good at least you are able to post again. Welcome back in the world of posting. Have a nice day.




• Philippines
30 Jul 08
Yes, thank you! I'm so happy... :)