How the (Share) market will proceed further...??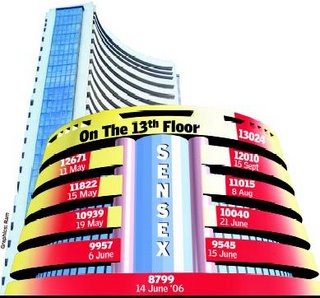 India
July 30, 2008 4:14am CST
Today the market is in Bull.. How long this will continue..?? In your opinion, how the market will proceed in the following days..?? Shall I espect any further uptrend from this level..? upto how much it will be in the upward trend..?? Or is there any decline is espected in the short term..?? Is this market is a trader market?? or the Investors market.?Please give your opinion in these topic., which may helpful for most of the people those who are in invested in the Share market..
3 responses

• India
30 Jul 08
this share market is playing wth the senses of many people,,,here people have lost crores of money i it,,now its the time that lets gamble,,invest further,,because i smell of this share market rising again to the topmost level like it did ,3 mths ago....investers lose ur pocket to overload it

• India
1 Aug 08
well i will keep on bro paste good discussions like this one

• India
30 Jul 08
The markets (sensex and nifty) have moved up in past few trading sessions. When the July series started the markets saw some good moves in the large caps. This was mainly due to stabilized oil prices and the Q1 results were expected. A few leaders like infosys also gave good numbers. But this up move also served as a little break in the falling markets and also provided some time to think to investors. The major event that could have affected the markets was the Trust Vote in parliament. This issue has troubled the markets for more than a year. Both the countries involved in the nuclear deal (USA and India) are about to face their next elections. Both the countries are now in favor of the nuclear deal. So any new govt in both the countries will have to take the deal forward. This will be a good news to the markets and I think from here we won't see much of a downside. The only thing the RBI needs to control is the inflation rate. Which it will eventually bring down around 7 till the end of this year. Lets hope that all these works in favor of the markets and we see some new highs next year!

• India
30 Jul 08
Hello,chenni! If you are really interested in investing in share market you follow the trend for a few days in the morning in tv channels.you will know which companies gaining and who are the losers.so that it will be easy on your part to judge when and where to invest.however the present upward surge in the share market would continue with minor ups and down.thanx.