This one is dedicated to you. My special moment of crossing "1000".

India
July 30, 2008 6:06am CST
It's been a little over a month since I actively started my participation here at my lot. This is indeed a special moment for me of having crossed the milestone of a 1000 posts. It would not have been possible without the participation and encouragement from all of you . Its been an exhilarating experience with so much that I've learnt and shared and that too in such a short period of time. So, this discussion my dear friends is dedicated to all of you. CHEERS and a huge THANK YOU.
6 responses

• India
30 Jul 08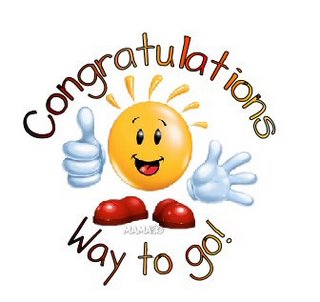 C O N G R T U L A T I O N S!! I am glad that you have reached this feat in a month or so. Commendable job alok. Great going, keep it up. Thanks for acknowledging us, your friend for this. But I feel its all you, your participation, your good thoughts, your responses that made the difference. I am really lucky to have you as my friend. [i]May you be always like this. May you get all you want in life.[/i]

• India
30 Jul 08
Hi Alok, Congratulations. You did it within 30 days. I really appreciate you. Well done. Bravo. I scored it yesterday. Its been ecstasy when it reaches four digit beside our name. Keep in touch. Thank you

• India
30 Jul 08
[i]CONGRATULATIONS to you as well ajesh. Great going.[/i]

• Delhi, India
31 Jul 08
Heartiest Congratulation to you Alok!

You deserved it

. I can visualise the special feeling on touching the four figure mark. I vividly remember the joy which I felt when I touched my first 500 posts. LIkewise, I also thanked all my dear friends for their unflinching support. Keep the good work going. May you touch 'five figure' mark one day.

• Delhi, India
31 Jul 08
LOL!

I am a small fry here (I am one of your friends amongst many friends here). I believe credit mainly goes to you and all your 'active' and caring friends here with whom you interact reguarly and it helped you reached four figure mark. Keep it up!



• Pakistan
30 Jul 08
hi, congrats, You have done a great job, keep it up.. I am still somewhere around 350-360


• China
30 Jul 08
Congratulation!You had reached up to 1000,i always keep posting,i believe i will reach up to 1000 soon.