Why do you love cats so much? What's something unusual you've taught to your cat

United States
July 30, 2008 6:26pm CST
I love cats so much because they are usually around me when I get sad, angry, or depressed. I also taught my cat how to play fetch!! Now that's something you usually have trouble teaching to a cat. So what's something that you've taught to your cat that's unusual? I would really like to know your tricks. =)
8 responses

• United States
2 Aug 08
My one cats sits when you tell her to, plays catch, and when u lay down she will come and "massage" you. She is soo cute!

• United States
31 Jul 08
I did teach one of my cats to play catch using a pebble of all things. But, my greatest accomplishment of all time I taught my (now deceased) Persian kitty, Indiana Jones, how to speak German. Can you imagine that? He's been gone for over two years and he was the last of my cat friends. Now, there's no one to talk to anymore and I'm forgetting how to speak German. I miss that cat.

• United States
31 Jul 08
I've never had a fetching cat. Now, my bro had one that would fetch golf tees. I've seen cats that fetch various things, a friend had a cat that got wads of paper, but only ever brought them half way back! I have a cat that has taught himself to jump into our arms. He will seem to do it on request, but it still has to be his idea.

• United States
31 Jul 08
i love cats because there so cute and sweet and there low matince but i love all animals i found my cat at my door step he was very weak and sick and i when i saw him he was very skinny and i just opened my door and he just strolled in like he know me and i looked to see if he had a Collier and there wasn't one so i nursed him back to health and then i took him to the vet to get his shots and from then on he became my best friend then i discovered he could do all these neet tricks he can fetch like a dog he figured out how to cut the lights on and he learns really fast its cool.

•
31 Jul 08
I just don't love cats, I'm an animal nut. I do have a cat that will wake me up in the morning by trying to attack my feet. Not really a trick I taught her, but one she learned herself. When she messes with my feet, I wake up freaking out and I just go ahead and get up. Then she gets my spot in bed to take a long cat nap.


• United States
30 Jul 08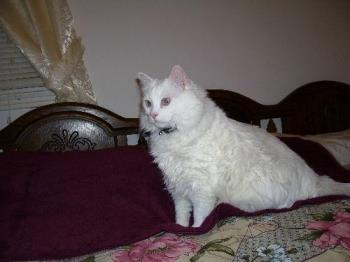 My cat acts as our alarm clock in the morning. I think he has his own watch on. Every morning at 4:00 a.m. he comes up on the bed and pesters us until we get up, then he takes over the bed. lol He also has a "paw fight" with my husband every evening and when they are done (after Buff wins of course) he gives a gentle high five on request. This is to get his treat naturally.

•
30 Jul 08
Hello SuperJP17, Its amazing what you can teach your cats and people say they are not interligant, how wrong they can be. I love cats too and i have two cats. I taight my cat a little trick, whe I throw him a little bottle top he jumps and catches it and Think he'll make a good goal keeper in a footlball team, then when I give him some snacks and it all finished I just say to him "all gone" he uderstands and walks away, clever cat but my female cat is a slow learner but will copy my male cat Tom. They are so lovely. Tamara

•
30 Jul 08
I did not actually teach the cat, i think the cat itself tried to copy what i do to itself. At first it puzzled me that the cat would get into my bedroom even when the door was closed. One day i caught the cat jumping up onto the door handle swinging and push its legs against the door which made it open. Its kitten easily adapted to that as well. So i decided to just lock the door and it would start miaweeing to catch my attention -but not when i'm sleeping