Do you let your man cook?

Singapore
8 responses


• Singapore
8 May 09
Yeah, of course. If he can cook, why not? Then I can sit down, relax and wait for my food. lol. I am not surprised that men can cook. In fact, men can cook very well and very good food. Some they cook much better than the women. To what I know, most of the top chefs are men.

• United States
31 Jul 08
LOL! LET HIM? He has always loved to cook and I ma not to sya if he does or does not. and he is not my boss, so I am the one that decides if I cook or not. he happens to be a gourmet coook and I LOVE it when he does choose to cook. (HIS choice..not for me to LET him or not!) I cook real well, so whoever wants to that day just does the cooking and even my grown kids jump in sometimes. We totally share! What's with this "let him" thingy? LOL!




• United States
31 Jul 08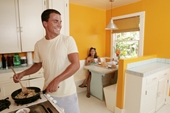 Hi, My hubby loves to cook. Unfortunately he is now working the night shift so he is not here to cook dinner. When I first married him, he didn't have a job and I was the income earner in the household. I worked just a short distance from where we lived and he always had lunch ready for me when I came home for lunch.

] He cooked the dinner each night too. I really don't like to cook myself but now I have to. lol I kinda wish he didn't work at night now.