Favorites vs Subscribing

United States
July 31, 2008 10:32am CST
I know a lot of us have been exchanging links to our Associated Content pages and I love reading what my fellow writers are up to. Some of you may know this already, but for the benefit of those that don't, there is a big difference between making someone a 'favorite' on AC and subscribing to their content. If someone is a 'favorite', that simply means that you'll be able to find their page easier if you are looking for them on the site, but you won't know if they've published anything new unless you go all the way to their page and look around. If you 'subscribe', you will get an email each time that AC producer gets published, then you simply click on a link in that email to read that article. When you subscribe to someone, that also puts them in your 'favorites', but if you 'favorite' someone, you're not subscribed - you won't get an email. Subscribe to your fellow producers - I'm sure they'll do the same for you. My link is on my profile here and I'd love to have more readers. I'm happy to return the favor.
6 responses

• United States
31 Jul 08
Hey, I just subscribed to your content, and look forward to reading your work. I just looked through and you have some interesting titles. I will read through more when I have time, but right now my toddler is demanding my attention. My link is in my profile, if you care to take a look. Important distinction you make between favorites and subscribing. I know I started out just putting people in my favorites, but subscribing saves time, since you get a notification when something new is published.

• United States
31 Jul 08
Thanks, Chicky. Send me your link and I'll reciprocate. I just sent you a friend request.

• United States
1 Aug 08
Hehe...I just hunted you down over there and added you as a favorite and subscribed to you...but yes, as a matter of course I always do both there, that is subscribe to someone at AC and add as a favorite

• United States
1 Aug 08
Oh PS..I have an AC widget on my profile so you'll be able to find me there also

• United States
1 Aug 08
You don't need to do both, though. If you subscribe, it automatically adds as favorite (but adding as favorite doesn't subscribe).

• United States
31 Jul 08
Thanks to you I found this site. I am now up to 7 works published. Some are silly short stories about my experiences, a couple are poems, and I wrote one editorial piece. I really enjoy this site. Thanks! :) Of course, I have added you to my favorites and subscribed as well. Anyone who does me the favor of subscribing and adding me to their favorites, I will do the same for you and read your works to get you more cash, simply send me a message after you've subscribed. There is a link to my AC page on my profile here, or you can message me because I'm not sure if posting my link is permissable here...

• United States
31 Jul 08
I'm glad you like it, Bethany. It's not a lot of money, but it is a nice way to let your creative juices flow. I've subscribed to you already and read everything you publish, even if I don't comment on each piece.

• United States
29 Aug 08
Likewise, and it is appreciated. :) Hey, I don't care if it's a penny a day, the way I look at it: it's still extra money and it's free!! LOL

• United States
2 Aug 08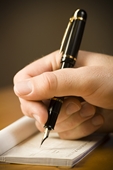 Hi Marie Anne, I've looked over there at some of your content and I thought your content was very interesting. I thought I might want to join AC but I don't think I would find enough to write about.

I will go over there and subscribe to your content. I always enjoy what your write and definately want to know when you publish a new article.

[i]Happy MyLotting, Char[/i]


• United States
2 Aug 08
You can join even if you end up not writing anything. And who knows, you might decide to get wild one day and give it a try.

But if you don't want to, I can still subscribe for you. Read the PM.

• United States
31 Jul 08
I figured this out when I was doing the blog. I am subscribed to everyone now. I don't even mess with the favorites thing.

• Canada
9 Aug 08
I believe we are subscribed to each other already aren't we?