What is that Thump, Thump, Thump Coming from the dryer? BTW where is the cat..

United States
July 31, 2008 2:38pm CST
Ok I am not very proud of this but I had this cat a Hymilayan (spelling?), who LOVED to stay warm in tight, cozy spots, I was doing laundry one day, clothes were not quite dry, baby starting crying.. I ran to the baby (failing to close the dryer door). Came back to finish my laundry, proceed to turn it on, I hear THUMP... THUMP... THUMP... What the Heck is that I say to myself, so I open the dryer door... out jumps my Kitty Spanky.. a little wobbly but just fine , he was fluffy too! What was the weirdest, funniest or most embarrassing story you have to share?
6 responses

• United States
31 Jul 08
well. i think the funniest story i can tell you is with four girls you never know what will happen. my youngest daughter was about 2 when this happened. she is now 5. she wanted to get a miniature bunny. so i bought her one and she and i was cleaning house. well i procede to cleaning up my bathroom and she disappears. i just figured she was gone to take a nap. well soon i start to hear water running i go to look and she has taken the bunny and put him in finger paint and has bunny prints on her bedroom walls and all over the kitchen floor where she let it go... thank god it was washable, but there was lessons learned that day. also after that day she named her rabbit paint... 1. never think always go look. 2. rabbits hate water 3. never leave any type of paint down so a 2 year old can get a hold of it. but she is 5 years old now and i told her the other day about it and we both laughed about it together...

• United States
1 Aug 08
moreless that is what you can call him..

• United States
31 Jul 08
AWW!!!!!!! poor little kitty..... i can't really remember an embarrasing story at the moment. i got too many other things on my mind right now. so........ HAPPY MYLOTTING!!!!!



• United States
31 Jul 08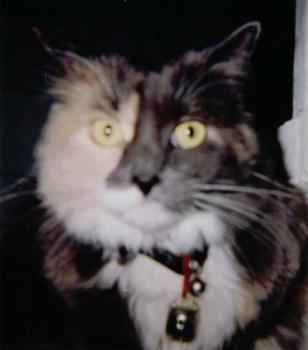 OMG, good thing you did not walk away before you heard the thump thump thump

One Sunday when my husband and I came in from church, I noticed that I did not see my cat Scoots. I looked everywhere, couldn't find her. I called and then I heard her meow. The sound sounded like it was coming from outside, i went out and looked, no Scoots, I kept calling, no Scoots, we looked under the bed, behind the couch everywhere, and could not figure out where the sound was coming from. We finally stopped to really hear where the sound was coming from. The sounds seems to be coming from the bed, we looked under the bed again, meow, meow, we took off all of the blankets, meow meow. My husband took the mattress off and lo and behold, there was Scoots, in the boxspring. How she got in there I have no idea to this day. My husband actually tore it to get an opening to get her out. She looked at us like, what's going on


• United States
1 Aug 08
Our cat got into our box spring one time as their's a whole ripped in the cloth! She didn't get hurt or anything but i'm wondering why she went in there. She's an adult cat, I suppose even adult cat's want to be kittens sometimes!

• United States
1 Aug 08
Hahahah that's funny. I remember this one time my dog hadn't eaten for awhile because we ran out and he was hungry. So anyways for dinner my Dad brought home some filet-o-fish from McDonalds. My little brother got his went into the room and started eating on the floor. Keep in my mind my dog was still hungry! Then my Mom called him, my brother, so he went to her. When he came back his burger was gone. I hear some smacking sound and I look under my bed and see my dog eating my brothers filet-o-fish from mcdonalds. My little brother ended up crying while the rest of the family was laughing.

• United States
1 Aug 08
Aww your poor bro! He must have been hungry too! I hope you guys went and got him some more mc D's... LOL and you guys laughed LOL, that's ummm... not... well yeah hee hee that is too funny... aww I have to send him a coupon for a burger LOL

• Garden Grove, California
1 Aug 08
nanciem hi poor kitty kat wow well she must have been well fluffed up . lucky she didnt get turned wow. I once had a hymalan cat and he was so lovely but I had to move to another state so had to give him to a friend as I couldnt take him on a bus. never did get another cat quite that beautiful either. I remember years back when I was in my teens we had an elderly relative visiting us. I had a big black cat who loved to sleep on that particular bed. well auntie came and got settled in . in the middle of the night I heard her scream help theres an animal on my bed. Iturned on the light and there was Midnight rperched right on her chest, this lady did not like cats, oh my. I got the cat a nd brought it out onto the porch where I was sleeping. that cat had got so scared she was shaking and I had to hold her and talk to her for a long time. my aunt was deaft so she talked too loud at times. well they both got a good scare that night. I had to laugh which did not help my aunts frame of mind one bit.