Do you have a trampoline?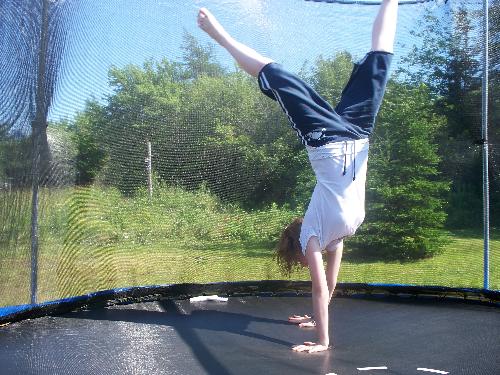 Canada
6 responses

• United States
31 Jul 08
yes we got a trampoline and i do flips on it all the time


• United States
1 Aug 08
yeah it use to scare my mom too. she never would get on. now that i am a mom i taught my girls and they LOVE it..

• United States
31 Jul 08
No I don't have a trampoline. I'm jumpy enough!

• Canada
31 Jul 08
hehe I know what you mean. Won't be seeing me on it again any time soon.

• United States
1 Aug 08
No, we don't have one. They are so fun but around here your homeowner's insurance will drop your coverage if you have one of those trampolines in your yard. I guess it's too much of a liability. They are fun to jump on, though!

• Canada
2 Aug 08
I think it might go up here too cause I have heard horror stories that they can be very dangerous


• Canada
1 Aug 08
Hi lilybug. Colton is a vidiot and doesn't like to go outside either but yes he does go out more because it is there.

• Sao Paulo, Brazil
1 Aug 08
Hello! A trampoline... I have never had one, but it must be great. You can jump high on it... It must feel like touching the stars... You can see everything from a certain height... You really let your mind flow... At every jump, a new thought... Until you fall off it and break your leg. Then you will have to spend three months recovering. Nah, I'm just kidding. It won't happen, trampolines don't make you jump as high as that. You peed yourself? lol That must have been embarassing, specially because your kids saw it. You should feel less scared about things. Respectfully, Munhozmib.

• Canada
1 Aug 08
LOL I shouldn't laugh I will probably break something going on it, but it is fun

• United States
1 Aug 08
I don't own a trampoline, no. Would I like one? Yes. I am a forty year old woman and would love to have one strategicly placed in my yard to have fun on. I would probably jump on it more than my four year old. Whenever I see a trampoline the child comes out in me. Some things we adults might not ever grow out of!Lol. Sounds like you better be careful Vicki. After a while you might have fun on it.


• Canada
1 Aug 08
Yeah a few more Kegal excerises and I am good to go. LOL Thanks