44 pound cat!

Holiday, Florida
August 1, 2008 2:13pm CST
did everyone see the news about the 44 pound cat that was roming the streets in New jersey? the shelter named it "princess chunky" chunk for short. come to find out the largest cat ever was 46 pounds. today, the owner came forward and said she couldnt keep "him" named powder, because she lost her home. He is up for adoption now.
8 responses

• United States
2 Aug 08
40+ pound cats!?! They must just be
ENORMOUS
!!! I cannot even imagine how it could walk. I thought my cat was fat and he was almost 10 pounds! OMG! Someone needs to put little Powder on a diet! That is insane. That is the weight of a medium sized dog!


[b][i] Have a great day and happy myLotting!![/i][/b]


• United States
2 Aug 08
Isn't there a certain breed of cat that becomes huge like Princess? I'll have to look it up, but I think so. They are big, long and tall, but very heavy, too. I believe this cat was on Regis and Kelly yesterday, but I missed it, so I'm not sure if it was the same one. The preview showed it as being white and huge, and I think they had said it was from the humane shelter, so it probably was the same one. No wonder the owner stepped up to claim it back, it is now a famous cat!

• Holiday, Florida
2 Aug 08
yes it would be nice if concerned people helped the owner get another home so she could keep him.

•
1 Aug 08
that must be one fat cat.. i guess the owner couldnt afford to feed it lol but leaving it just to roam the street ..! i dont like animals really but if i had one i wouldnt just leave it to die lol but chunky or powder didnt die so thats all good lol

• Holiday, Florida
1 Aug 08
yes, i guess the poor owner lost her home.

• United States
2 Aug 08
i hope it finds a happy home. if it doesnt, why dont u adopt it?

• Holiday, Florida
2 Aug 08
yep, i would, but like i said, hed think my chihuahua was a rat and eat her!

• India
2 Aug 08
Oh wow, sounds like a super cat. :) And I hope he finds a good owner. :) Cheers and happy mylotting

• Holiday, Florida
2 Aug 08
yes he just looks so cute and docile. i wish i could have sent the link.

• United States
1 Aug 08
Yes I saw "princess chunky" or should I say powder on the news and I was like wow!......that's a huge cat. It's unfortunate the owner lost her home

.

• Holiday, Florida
1 Aug 08
yes, i think thats why she couldnt think whats best for the cat.

• United States
1 Aug 08
She is a big kitty but not hte biggetst. The biggest kitty is not 46 pounds either there is one that is 23 kilos or 50 pound here is a link to her picture http://www.freerepublic.com/focus/chat/856728/posts There are probaly ones bigger we don't know about too.

• Holiday, Florida
1 Aug 08
thanks. i was afraid to post a link. have heard so much about discussions being deleted.

• United States
1 Aug 08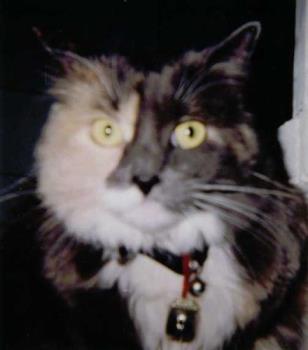 Yeah I saw it, I live in New Jersey, can not remember where the cat was though. He was so cute, the last I heard is that the owner came forward and reclaimed the cat. Many people were ready to adopt him. If he was not claimed in seven days then he would have been put up for adoption. How can you just put your cat or any other animal on the street, anything could have happened, gotten hit by a car etc. It was a happy ending but she should have been charged with cruelty to animals, she could have brought him to the shelter. There was another article about a homeless man, his dog got sick, and he left him at the animal shelter with a note, stating that he was homeless and that he could not afford to take the dog to the vet, and would they please euthanize the dog. Well the shelter had the dog taken care of and when the man called to find out the fate of the dog, he was elated to find out that his dog was okay. They were reunited and what a reunion that was. Pets are so precious.


• Holiday, Florida
1 Aug 08
yes she should have taken him to the shelter. guess she was so upset over losing her house she didnt think.

•
1 Aug 08
WOW thats some cat!!he is twice as big as my grandson!!and lol he is well covered,but my oh my,whoever is going to give him a home will either need a big income to afford all of his cat food,or lol a weughwatchers pet plan!!but im sure that there will be someone who will take him in and love him to bits,lets keep our fingers crossed for Chunky!

• Holiday, Florida
1 Aug 08
oh im sure. hes pretty. i would have posted a link but i couldnt figure if i could yet be allowed.