Is NOD32 anti-virus the best free anti-virus???

India
August 1, 2008 2:34pm CST
I am using the NOD32 anti-virus.Earlier i was using Norton which expired after 3 months after that i encountered with many problems.My computer was prone to virus after the expiration of Norton.Then i came across many free anti-virus available.But nothing proved to be as effective as the NOD32.After installing the NOD32 anti-virus I haven't encountered any virus attack to my computer.The best thing is that it gets updated every day if we have an internet connection. So I want to know how do others feel after using NOD32?? Is it the best free antivirus software available??
10 responses

• Philippines
10 Aug 08
i am using Avira and so far i haven't got any viruses attack but i try on NOD32..

• Philippines
1 Aug 08
i am also using nod32 in my laptop but i have probs in using it..after detecting the virus and clean it there are some errors everytime i start the laptop...there is a prompt saying the file cannot be found or somthing like that..and wheni chcked what file that is??it is the supposed to be removed virus...the virus has gone but the prompt is still there? what do you think will i do?


• India
2 Aug 08
But till date I haven't got any such kind of problem by using NOD32.Every time there is a virus attack it asks for deleting the virus but after deleting the virus my files are not deleted.Do you update your NOD32 everyday??? There is an automatic update available which will help you to prevent from new virus threat.Maybe your anti-virus is out of date for which you suffer from this problem.I don't know whether you update your anti-virus or not, if not then do update regularly.

• Philippines
5 Aug 08
YEAH i think that seems to be the prob coz i wasnt able to provide an internet connectio at home at the moment maybe when i do that (pretty soon) the prob will be solve thnks

• Philippines
10 Aug 08
hello. you will have to set the action of the nod32. put clean then promt for action. dont select delete. maybe the file has been deleted thats why it appears file not found. :) same thing hapened to me. my loptop also showing tat to me everytime. what i did is i set the action tab. so that everytime my loptop encounters a virus he will only clean it not remove it. :)


• India
10 Aug 08
Well before using NOD32 i was using Kaspersky.But after the expiration date my computer was attacked with viruses.So I tried with NOD32 which is free and have a lifetime validity and it gets updated by the internet.So I am not facing any problem with viruses nor I have to renew my antivirus !!!

• India
10 Aug 08
nod 32 is the best thing to happen since windows and mac,.....its an excellent anti-virus/anti-spyware software and it has an intelligent virus database...takes very little computer resource, and does slow down the computer...its time symantec and trend micro change there R&D team....pass the word around nod 32 is the best and gives peace of mind....no more formatting...*****

• India
3 Aug 08
I am using NOD32 anti-virus since last 4 months , and it really works good, the best part is that it is light on your computer memory. I used lots of anti-virus in the past , but I liked NOD32 for its efficiency. Till now it has not let a single virus to infect my computer. Hats off to NOD32. Hope it keeps on working this way in the future too...

• Philippines
10 Aug 08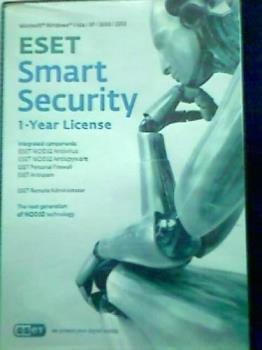 hello. for me, yes. NOD32 gives me alert everytime i downloaded a file with a virus. i realy like it. i even attended their press release here in manila. they show us that if you scan your computer, you can still watch and even play some music. not unlike other anti-virus. they will make your computer slow and they will occupy a big space in your memory.these NOD32 is for windows me and lower. but Now the eset lounches the smart security and its all in one. not like norton that they have different cd. like ghost and for the internet i think they have 6 cg in one computer. the smart secutiry is only one cd. Integrated components of: eset NOD32 antivirus eset NOD32 antispyware eset personal firewall eset antispam eset administrator this is for the widows vista, windows xp, 2000 and 2003, smart security is the next generation of NOD32 technology. you can a free anti-virus through their site. they are both the best for me. NOD32 is the first vesion and the SMART SECURITY is the improved version of NOD32 i even have the trial cd of this smart security because i attended the press release of this antivirus here in the philippines. you can check out their site: www.eset.com

• United States
1 Aug 08
The best anti virus I found is AVG.


• Romania
1 Aug 08
i to have nod32 v3 paid version,is the best antivirus for me because don't need more resources,and pc never slow,like on others antivirus soft like kasperky,it's get updated everyday,and i don't need another firewall,because nod have allready one.i've started to use nod 4 years ago and i use it until now.

• India
1 Aug 08
I do not think that there is not any free best antivius software available. There are many antivirus available and in my opinion best one are nod32 and norton. only free antivirus i used is AVG. about 2 years ago and it failed sometimes to detect virus in my computer so don't trust free antivirus anymore.