This is mr Mink a frind from USA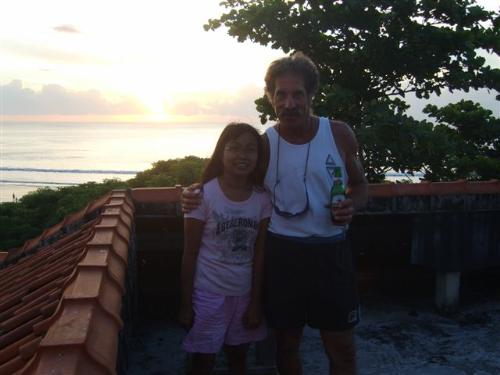 Indonesia
August 2, 2008 2:09am CST
This man likes to visit Rado and see the waves at the roof. Almost every morning Rado lick my sleepy face because he want me to open the door of my room because he hear this man coming. Searching for a good the waves. Sometimes when the waves it's very good he goes to Uluwatu to look for a better waves. Well you know it's me at the pink t-shirt.

Some time i wonder how those waves influence some of people very bad.

Happy Posting everyone!!! oxox'dian
3 responses

• Malaysia
2 Aug 08
Hi diansinta, hehe ... lonely Rado always feels happy to have someone visiting him. Eearlier I wonder why the balcony on the top of the building where you live could attract people to visit it. After having a close look of the picture attached I than come to understand that, standing at the balcony could get the perfect view of the landscape especially to view the fascinating sunset seascape. Is it the balcony on the same building where your internet café is? Yeah, I can see you and Mr Mink in the photo. Mr Mink is really a tall man. I believe he must be very good and skillful in surfing.

posting and take care.


• Malaysia
9 Aug 08
You are very much welcome dian, I like to leave a comment on friends' photos after have a look at it. Of course I welcome friends to leave comment on my image attached as well. It's interesting to know what friend would say about my photo.

Wow! The balcony is big enough for you to do exercise

Yeah, it's really amazing to know that there is a high time for surfing only. And only people like Mr Kim who have much experience could know when is the high time to go surfing.

posting and take care.


• Indonesia
22 Aug 08
Hi drannhh(*hug), yeah, i was taking off my ninja suit Lol

So i hope your opinion about me still the same

I will visit your discussion right away! See you there !! oxoxxox'dian

• Indonesia
7 Aug 08
hi dian sinta, that's great rado get another friend. you are lucky to live near by the sea, so you can enjoy the waves as often as possible

i once visited kuta, and it is really nice with its white sand. happy posting


• Indonesia
8 Aug 08
Thanks Sutan Hartanto, That is the advantage of living at the roof. LOl

I agree, white sands always lovely. Look clean. I love it than the black sands. But sometimes i get storm too, it was so scary living at the roof. I saw tornado once at last February. It was amazing and scary.

. Happy posting to you too Sutanhartanto!!!