Does your pet have a story to tell?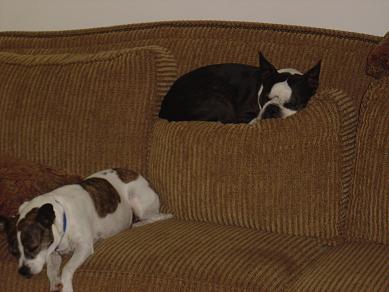 United States
August 2, 2008 5:57pm CST
Many of us get our pets under unusual circumstances--a stray dog or cat, or inherit one from a relative or rescue the poor thing from a cruel owner. Some show up on our doorstep and adopt us whether we like it or not and capture our hearts. My Boston Terrier, Gus, is a rescue. His owner was a drug dealer and when poor Gus was 6 months old, his human was shot and killed over a bad drug deal. Gus was the only one left in the house and thank goodness they didn't kill him, too! The sheriff called the BT rescue and I eventually found him through them. He ran to me and my then-husband like we were long lost friends and we took him home that day. Cookie, my rat terrier, was rejected by 10 homes and began her life by being thrown over someone's fence. When I got her, she didn't even know how to sit on someone's lap or that she could. Her last owner had to work with her a lot since the one before that had left her in a small kennel for 20 hours a day and she could barely walk. She's a happy dog now, full of love and playfulness. Does your pet have a story? Do tell!
4 responses

• Philippines
3 Aug 08
o' yes, a lot! ive 3 cats, 2 guysand 1 girl. the guys are always running around with each other. not playing but fighting. you will see the sleeping in a separate place, mau my other guy cat loves to sleep at athe top of our cabinet or in our piano. same with the other guy nobu, he loves to sleep in our piano too. so if he sees mau sleeps there he'll squeeze in to sleep on the other side. they are big cats so they will really curl their body just to fit in. if the look each other in the eye be ready cause 100% they will fight! my girl cat i always see to it that shes inside my room. to make it more safe. cause everytime they see the girl marley, they will run after her. these two boys are really bad but charming hahaha

• United States
4 Aug 08
Poor little boys, they're just doing their jobs! I love cats! I'll bet that piano feels real cozy to them, too. What great kitties you have.


• United States
3 Aug 08
My pets don't really have much of a story they were in a tiny small cage at the humane society they were only 3 months old an had just had surgery (spayed) a few days before. I have two kitties they are sisters from the same litter they are 7 monhts old now. My daugher shut Jazzy's leg in the screen door and broke it and she had to wear a cast for 3 weeks and they had upper respitory infection when I brought them home from the shelter and they had to go on antibitics but they are full of energy now.

• United States
3 Aug 08
That's still quite a story, not your ordinary pet's life. Bless you for taking them in and nursing them back to health! I hope they bring you nothing but love.

• United States
3 Aug 08
Well, not my dog but my mothers, he grew on the whole family though. My moms dog was named X-RAY. My mother named him that for good reason too! X-Ray showed up under my moms porch one day...so skinny and scrawny that you could clearly see every bone in this poor dogs body, now who could shoo away a creature like this??? He was so weak and frail and scared and we thought that he would never make it thru another night. He was a real timid dog and he was definately a 'wonder dog' as my mom would call him... see, he had no tail and sort of looked like a 'deer' and noone for the life of themselves could tell what kind of dog he was. We thought his stub of a tail was just due to a cruel person but later on he fathered a litter of puppies and 1/2 had a tail and 1/2 didn't so we figured it was genetic. His bark was but a high pitched yelp which we figured too was from being so malnourished but he did suffice... my mom fed him and made him well and he was welcomed by the whole family. X-Ray recenly passed away after being attacked by a pit bull that was not chained up. We had him for 4 years and the whole family misses him, he was definately 'unique'.

• Canada
3 Aug 08
My sister's cat that she adopted came from an abusive sutation. No one knows how bad, only the end of the story. A car drove up to the humian society and THREW him out of the car. I believe the car was still driving at the time. Originally they were going to put him down because they though he was an old cat, his fur was matted, claws overgrown, the works. My sister adopted him, although I am not happy she did (We had an old sick cat. He did NOT need a new cat coming into his territory at the time, and it did end up instigating his condition and outright killing him within half a year). He was scared of being up on anything, would only eat certain kinds of cat food and treats, would not eat any wet food, human food, or semi-most treats, was terrified of the car (And still is), would not let people clip his nails (And still dosen't) would claw your feet randomly for no reason, ect. He's getting better but he's still a royal pain at times.

• United States
3 Aug 08
I'm awfully sorry about your cat that crossed over. He'll be waiting for you. I can't imagine someone treating an animal like that. I hope they get treated at least that badly. Bless your sister for adopting that poor kitty and I hope you can grow to love it. Please have patience, imagine what you would feel if you went through that kind of treatment. He'll reward you in ways you never imagined.