OK, maybe now you can see the deer???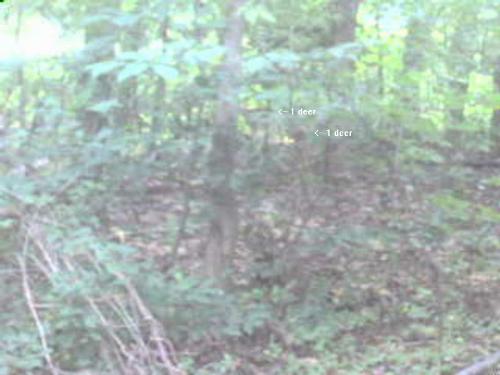 United States
4 responses

• United States
6 Aug 08
Hopefully I can see them now I will look now.

• United States
6 Aug 08
It's really just the shapes of them. If you use your imagination a bit you can kinda see them.

• United States
16 Aug 08
I saw them in the other photos. I went to my dad's and will post photos of the deer that he feeds. I got to touch one a mama and a fawn they are so pretty. He feeds them every night.

• United States
28 Aug 08
Wow, those are very tame then. There are some in my Mom's yard that are not as afraid of us as others, but we can't get close to them.


• Regina, Saskatchewan
3 Aug 08
"I'm definitely taking my real camera with me from now on!" LOL Made me think of the Vince Gill song, "Ain't nothin' like the real thing": "Ain't nothing like the real thing, baby Ain't nothing like the real thing. I got your picture hangin' on the wall It can't see or come to me when I call your name I realize it's just a picture in a frame." I've come to this discussion from my email alerts so I can't see your picture. Will repost after I load this response and get to the discussion proper where I'll be able to see the pic. Hang on a mo........


• United States
3 Aug 08
That's an awesome picture! They do blend right in with the mountain, except for the one's behind! And the other is underneath, looking like it's about to fall off the mountain! I love the way it all blends in, that's pretty cool!

• Regina, Saskatchewan
3 Aug 08
It was raining the day we driving through that part of the mountains, and I wouldn't have even noticed the goats except for those white butts! LOL When I got the pics downloaded to my computer, I had to fiddle with the contrast a bit to make the goats more visible. I'm glad you liked the pic.

• United States
4 Aug 08
I could vaguely make out the pictures with the help of your indicating where the deer are located. But, even with the guides they are very difficult to see. I am with you on the idea of bringing the camera with you.

• United States
4 Aug 08
I took it with me today and it figures - no deer! I wont be back to the park again until after Labor Day, so I'll have to wait and see what happens next month.

• United States
3 Aug 08
I tried and tried to see the two deer and still no luck for me but my eyesight is not the greatest. I put the picture in photo edit and darkened it up some to see if that would help me. I even played around and tried to zoom in some. Thank you for your extra help in trying to get us to see them, hopefully others won't be as blind as me. haha

• United States
3 Aug 08
I don't think you'll be alone. They're still really hard to see. I was trying to see if I could circle them or something, but I have very basic photo editor.