wht is ur favorite vampire move

United States
7 responses



• United States
29 Aug 08
the best movie is underwourld

• United States
5 Oct 08
I saw the first one, but I was very disappointed by their impression of the vampire/werewolf mixed creature (sometimes called "abomination" I don't know if they call it that or not). I have wanted to see someone address that issue for a very a long time, and so far everyone I have ever seen do it, it was a let-down. I still want to see the 2nd, but I was in less of a hurry to.

•
1 Sep 08
I absolutely love interview with a vampire! I like horror movies and periiod costume so it's a great combination for me!! hehe xxx

• United States
3 Aug 08
Interview with a Vampire. Its a beautifully done movie, and shows both the human and the savage side of vampires. Plus its the only movie that I know of that comes close to matching the book.

• United States
30 Aug 08
ya that was a really good movie. the first time i ever saw that i thought that it was based on a true storie. lol the storie line was really good, and very moving. there were parts that made me really think if i would really like to be a vampire. most vampire movies now make being a vampire very cool and fun, but the older ones seemed to show the down side of a life of a vampire.

• United States
28 Sep 08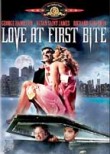 Well the first one I ever watched was when I was a kid it was an old black and wite with Borris in it. But my favorite and the one that got me hooked on vampire movies was the one that came out in 1979. Love at First bite with George Hamilton. Yes it was a comedy and made me laugh but now I collect vampire movies. When a new one comes out in the movies I go to see them and then when tye come out on dvd I buy them...lol I even go and buy the ones where its a mix of vamps and wolves.....it's the biting of the neck thing...lol

• United States
28 Sep 08
wow, that's an old movie. i can't say that i have seen it, but i think I'm going to check it out since i love vampire movies and i have a large collection. ya i know what your talking about the whole neck thing. so what other vampire movies do you like? did you ever see the movie Underworld 1 or 2?

• United States
29 Sep 08
Yes have seen both 1 and 2 of Underworld and own those as well. Have you seen 30 days of night. That is how I picture vamps would be all messy. So many vamp movies make the kill look all clean and proper but I think if there were vamps they would be like the ones in 30 days of night. I like lost boys and own it now I need to see the remake and get it as well. Queen of the damned was good sorta wasn't a fav though. Have seen the following vamp movies: Interview with the Vampire~ Queen of the Damned~ Vampire in Brooklyn~ The Forsaken~ Buffy the Vampire Slayer~ Van Helsing~ Blade: Trinity~ Underworld: Evolution~ The Night Flier~ John Carpenter's Vampires~ Underworld~ The Return of the Vampire~ Son of Dracula~ Vampire's Kiss~ Love at First Bite~ Brides of Dracula~ House of Dracula~ The Lost Boys~ Interview with the Vampire~ I had to go get the ones off the shelf....lol Have seen so many that I can't remember all of them...how about you?

• United States
5 Oct 08
I'm fairly certain the new Lost Boys is not a remake so much as a sequal. It has the Frog brothers (same actors) all grown up and hunting. I want to see it but ... I'm VERY scared that it will not be good.



• United States
30 Aug 08
do you remember anything about the movie like who was in it or what it was about. i dont think that i've ever gotten a nightmare form any vampire movie. personaly i love vampire movies and i want to own every movie there is out there about vampires.

•
28 Sep 08
interview with the vampire..... hmmm...actually i like the actor so much~~~