Go with the flOw..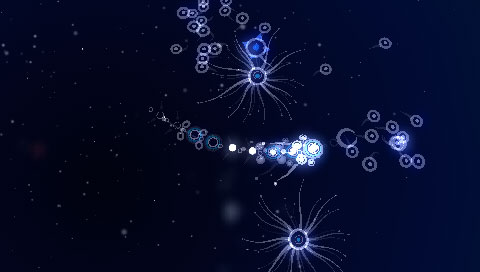 Philippines
August 3, 2008 11:05pm CST
Have you ever played this game? Its on the PlayStation Portable and also on the PlayStation 3 and its simple enough.. you just control this organism-like
organism
and go through this water-like environment wherein you eat smaller organisms or make your way to grow bigger. Simple and addictive as others implied on the game.. Of course, you progress deeper and deeper and you are also able to be another organism with different traits and abilities like being fast, being invisible, or the other traits that you just have to find out while you play the game..
So, have you played it
?
How did you find the game
? Interesting and addictive?

1 response

• Philippines
4 Aug 08
Sorry dude, still dont have a PSP. Know those kinds of games though and actually got addicted to it. The very first one that I played was 'Fishy' (not sure if thats the right title). An online flash game where I start out as a really small fish and eat the even smaller fish to grow bigger. Then get up on the food chain. Just dont let other big fish eat ya. Controlled by the arrow keys and I remember that it kept me up until 3.30AM just playing. Good thing I won(Im the biggest fish and killed all of the ecosystem) that night or I mightve extended my play.LOL We have a Gamehouse version of the game and has the title 'Feeding Frenzy'. more levels and backdrops, different kinds of fish and some mermaids and pearls too. Havent been able to defeat the fish king of some sort. Someday I will.LOL

• Philippines
4 Aug 08
That game you described closely resembles the game I mentioned.. Hmmm, it kept you up until three in the morning? I guess variety is the only thing the flOw lacks.. there isn't any options to change as well.. but, as the game would imply.. '
life can be simple
' that is eat or be eaten.. Well, if ever your interested on getting one, I suggest the earlier versions since the new ones that just came up recently, they say, can't be modified to play games from the Memory Stick.. I wonder how those who modified the first available PSPs would get around the defensive design of the newly released PSPs..