Frigging IDIOT!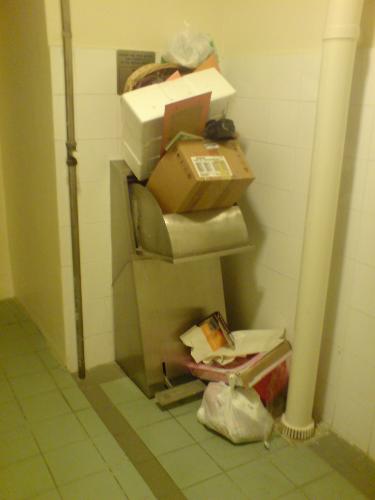 Singapore
August 4, 2008 11:52am CST
With the new designs of the flats, there no longer exist the rubbish chute in each home. Now, it is one common chute and you have to share it with the rest of the families that reside on the same floor as you do. I live at the corridor unit and the bin is nearest to my home. Well, today, I was about to clear my daily trash when I was faced with this! I do not know which is the frigging idiot that is trying to stuff everything into the chute.

It is common sense that if the box is too big, leave it by the side. The sweeper auntie will clear it in the morning when she makes her round. An unwritten rule that many flat dwellers have abide by since, well, I remember staying in a flat. Which is the whole of my life! Then comes this frigging idiot that actually pull a stunt like this!

When I first shifted in, the bin was in good condition. Opening and closing the lid was smooth. Then some idiot managed to stuff something big into the chute, spoiling and bending the side of the lid, making opening and closing the lid a hassle. BUt it is still livable, as we could still throw our trash and the lid could close. Now we see some frigging idiot pulling a stunt like this. Over stuffing the bin. As if it is all going to disappear into the chute magically over night! Now the rest of the units on the same floor cannot throw their trash! Grr...

Don't these people know that spoiling the chute means no lid to cover the chute when throwing trash? Don't they know that with the lid open, the possibility of crawlies coming out and inviting themselves to our home will happen? What in the frigging world were they thinking when they did that?!? Don't let me catch the b****rd who did this. I will make sure I clear the bin and dump the darn trash at his door step. And see if he likes it when it happens to him!
3 responses

• Singapore
5 Aug 08
that is a really champion person. Stunning picture. You should send it into stomp or something. but perhaps it happens so often in singapore that it would not even be news. Let me share some more chute horror stories. they do not escape those who have individual chutes in their homes too. a friend who lives at a low floor (i think it was second or third floor) one day found that there was this huge CARPET stuck in the chute. someone decided to roll their carpet up and throw it down the chute!! and it got stuck! and gross garbage started piling on top of it and was unable to fall down into the collecting bin. and it started rotting and smelling on top of the carpet! And it was quite a while before some unfortunate soul had to go and clear it. I mean, there is a bulky refuse bin at the void deck for a reason right?!

• Singapore
5 Aug 08
I was thinking of doing that, but do not know how to go about doing it! Then again, you may be right. It may not make it to the news. I am thinking of writing to the forum straight away. But then again, that does not solve anything. I am still undecided what to do. But if it happens again, I am going to call for a conference between the units on the same floor to discuss this so that it will not happen again. Grr... dun let me catch the culprit!


• New York, New York
4 Aug 08
I live in an apartment building and I have some idiots that do the same thing. That person should not have tried to shove it into the chute. If he/she had broken the box in small pieces it would have fit or like you said leave it on the floor near the chute to be picked up by the cleaning person. Some people are so stupid.

• Singapore
5 Aug 08
I so agree with you. If they are truly stupid, I can still forgive them. Cos their stupidity is the one that dictates the way they behave. This is more of selfish and inconsiderate!

Look at the picture. One look will tell you that the darn box cannot fit into the bin. Why try in the first place? If there is something in the box that you do not want scavengers to pinch, then clear the box out item by item! Why try to stuff it in like that? On top of that, when you know jolly well the box cannot fit, why not remove it and put it down on the floor? But instead, this idiot went to pile all his trash on top! And when he couldn't balance anymore on top, he leaves them on the floor! What a jerk!


• United States
4 Aug 08
Living in a house, I don't have this issue. I like the concept thou, if it works right. I swear some people are so rude. We had to have dumpster at our house, because of water damage and you would have thought it was a free for all for the neighborhood. People kept throwing stuff in, when we were not around, which was a lot of the time since our house was uninhabitable. The construction worker's kept insisting they were going to throw it into the street or the people's yards if they caught who was doing it. LOL