has anyone heard of cricket bowling machine?

India
August 5, 2008 7:01am CST
Such cricket bowling machines are being manufactured at Hyderabad, India. I would like to upload a few photographs,. It has been appreciated by Rahul Dravid, and such famous cricketers. And, it is used by the KOLKATA KNIGHT RIDERS, at Kolkata during the recent IPL tournaments. Anyone intersted, or know more about such machines, please comment.
5 responses

•
6 Aug 08
Do you really say in India somebody producing such a machine? I have seen a machine in mumbai (ha-ko) you can not call it a bowling machine. If dravid said something about the machine, it could be true. can you you give me the address of the machine manufacturer.Is he really a manufacturer? I also wnat to see the photographs. I will buy it for my kid.

• India
9 Aug 08
well, yes. I am not truly a cricket lover.. but, once I have seen the performance of the machine.. the bowling machine, I was FLAT. got overwhelmed. I am trying to upload a photo of the machine in performance. along with a RAHUL DRAVID included one. And, you know what? .. The manufacturer is from HYDERABAD, INDIA. the very IT-HUB of the world. next to bangalore ofcourse. As of the details, like contact, etc.. I would like to send you a private message.. with all such details that I can give. If you would allow me to add you as a friend, that is. Goodluck.

• Jamaica
5 Aug 08
In the Caribbean there are some. Members of the cricketing fraternity is endorsing it. I think it is like the machine that baseball players practise with. It is good and players will be able to concentrate better.

• Nepal
5 Aug 08
Yes it would be apprecited by all but i think it has been established years ago...

• India
11 Jul 10
No, i don't know about bowling machines. But i was played in cricket in multiplex theatres on PCs.

• India
12 Jul 10
well, thankyou for the response dear ramesh.. I will see that someone will send you the necessary address of the cricket bowling machine.. at your place.

• India
5 Aug 08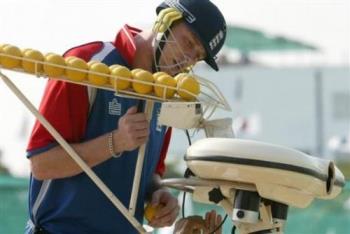 hi how are you

yes i have heard of cricket bowling machine and also tennis machine i have not really seen them in real but seen on tv and commercials and not really played on them but heard that
they are of diferrent types like

automatic and the manual
and i really would like to play with them wonder if the bowl migh not
smash my face
as een in toon like tom and jerry