So you make money online. What do you do with the money?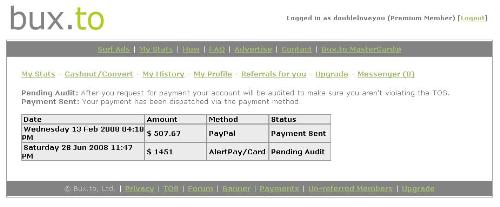 United States
August 5, 2008 11:35am CST
Most of us here make money online. If nothing else through Mylot. What do you do with your money that you make? Do you pay bills or do you buy stuff you don't need or perhaps stuff you do need? Or maybe you reinvest your money? So the big question is what do you do with the money you make online?
6 responses

• United States
6 Oct 08
i only had made $3.08 in two years i was inactive for 6 months only,,but i would use the money to buy music (CD's).Or t-shirts....out of the internet stores.!!

• United States
7 Oct 08
1 question and 2 comments. Q: how in the world can you have 2156 discussion posts and only have made $3.08? I have just over 500 post and have been paid 3 times now. Comment: That is something that most people don't think of. They can take their earnings and buy from online places that pay you to buy from them so you get merchandise and paid back some of the money. Very good response.

• United States
7 Oct 08
well i was away from MyLot like 7 months but anyways i don't know why in this world i don't have 10 bucks yet.in 2 freaking years....


• United States
5 Aug 08
My goal is to take the money I earn from online and pay bills. one at a time. As I make more online I look to be able to pay all my monthly bills from online money and that way have all the money I make at my job for things I want or want to do.

• United States
7 Oct 08
Are you making that much to pay bills Becky if so that is wonderful! How are you and the Kids? give them a Hug for me.

• Canada
5 Aug 08
I work online for my living so I use my money just like I would use my money for a regular 9-5 job. I pay the bills. :) Boring, eh?

• United States
5 Aug 08
Not really boring. Sound more like it is a sound plan. Not many people can say they make a living on of online business. Very good.

• Canada
5 Aug 08
Thank you kindly.... and it does feel really good. I always have a smile in my voice when I tell hubby that I deposited X from our paypal account into our checking account.

• United States
7 Oct 08
We I paid my Cable Bill once form the Money form Mylot. I have brought some things I needed around the house, the money come in handy for something even if it isn't much. You could take it and invest I suppose.

• United States
7 Oct 08
I like it because I am getting paid on a regualr basis here at Mylot. I hope to get to the point where I can bring in about $15.00 every month. That would be great. The more times I get paid the more I want to be here. It is a wonderful thing. Thanks Marcia.

• United States
5 Aug 08
Well, I made a mistake and bought a new car last year. Now I'm stuck with a payment for another 5 years, paying over $10,000 mor than the car is worth. So I use the money for my car payment and saving up to try to pay it off sooner.

• United States
5 Aug 08
That is a great idea. my wife and I have been with a car payment for about 3 years. It is great to not have to be in debt. We have been completely out of debt for 6 months and it has been wonderful.

• India
5 Aug 08
Well...i just buy some stuff..online...coz the amount we get isnt that high that we can actually ..do something or show ..that we have a earned....

• United States
5 Aug 08
True the amount is not very big. What I ended up doing though is taking what little I have and turned it into much more. It has been well worth it over all.