Raw oysters anyone?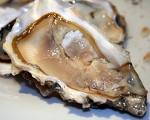 Canada
August 6, 2008 10:34pm CST
I tend to find that people other love them or hate them. Eating oysters raw. I find them amazing, and if I was stranded somewhere with only one food to eat, it would be the oyster. I like it prepared in many ways, but raw is the best for me. Where do you stand? Do you like it or hate it? There is also another category of people who say 'yuck' to the idea, even though they have never tried it. A valid response I suppose. One that I had for a long time until I tried one, and then I was hooked.
4 responses

• United States
7 Aug 08
I used to eat oyster fairly regular until i found out that they are one of the sea creatures that are a garbage bucket of the ocean. We would have them as a special at Christmas every year. I have never eaten them raw and they don't appeal to me at all any more.

• United States
7 Aug 08
I love em, it has been years since I have had any oysters on a half shell, oh yeah. I remember I used to go to an Oyster Bar every Sunday when I lived in Tulsa of all places. My response from most ppl now if I ask about finding another good oyster bar or place that has em here is ewwww how can you even think of that. One of those you dont know till ya try it. hehe


• United States
7 Aug 08
If you have a few, well more than a few coctails before you try it for the first time, they go down real easy and then you will be hooked, hehe. I used to be a YUCK person long ago

• Philippines
7 Aug 08
I usually eat oysters BOILED. Eating them with vinegar. Sometimes we also eat them baked. Kids would love them baked, with creamy cheese all over.