Tonight is a big night, r u going to watch the opening ceremony on line or tv?

China
6 responses


• Singapore
9 Aug 08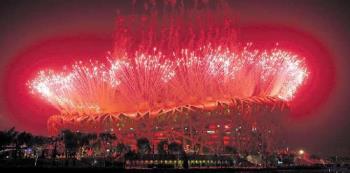 Oh I did I did! I watched the opening ceremony on TV! The fireworks were really something! Never expected the Chinese to use so much fireworks to mark the opening ceremony. The performances and the stage is also quite good to watch. Very interesting choreography of the different theme to tell the story of China, from old to new! Very very nice indeed!

• China
10 Aug 08
extremely creative. i seldom concern about my own country's history, but from that day on, i need to take a fresh look. and one more thing, did you notice the outside of the stadium? the city night view is terrific, guess if i were in beijing that day, i would spend many sleepless nights. so exciting.

• Singapore
11 Aug 08
Oh yes I did notice the beautiful skyline. I never knew that Beijing has such a nice landscape at night! I sure wish I could go there to see. Maybe I will try to plan a trip. It would be interesting to see the birdnest stadium up close as well. Heh heh heh...



• Trinidad And Tobago
8 Aug 08
I used to think that the Olympic opening ceremnoies were impressive until I realised that most of them are basically the same and I am not a sports person anyway. I don't have a TV at home because I think TV promotes a lot of false values and shows I don't like. I hope your country has a successful Olympics.

• China
8 Aug 08
good, we have some in common. i don't watch tv for nearly 10 years, refused to watch koreal and japanese or taiwan plays, time-wasting. i'd rather read books or watch movie. but tonight, i will watch it not because i love the game , simply because my country hosts the game.