Former Drug Addiction and people's reaction..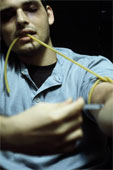 India
August 8, 2008 12:43pm CST
Would it change your perception about a person, if you come to know that he/she was a former drug addict?
4 responses

• Philippines
9 Aug 08
It won't. It won't even affect my attitude towards the person. I like to base my perceptions about a person on my personal and actual interaction with that particular person.

• India
8 Aug 08
No it wont. I am one of the formers and quit everything with a fatal incident. No I stopped everything without any rehabitation and today I hold high esteem with my colleagues and subordinates

• United States
8 Aug 08
Yes it would, but not in a negative way. I have dealt with many addictions and been around people who have as well. I see the person who ovecomes their addictions as a strong willed person who sees that they cn change and improve. I have a great deal of respect for those who have overcome these battles in their lives, and they are the people I like to surround myself with.

• United States
8 Aug 08
It would make a difference depending on the behavior that they were showing previously.