Does any one own a mixed breed????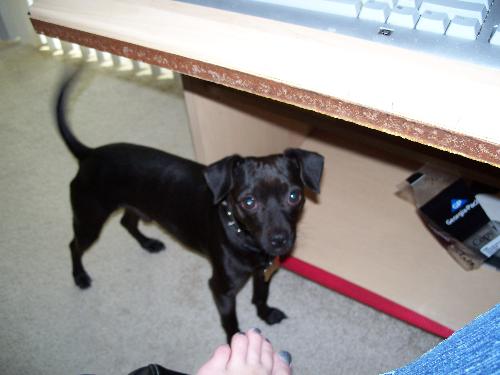 United States
August 8, 2008 4:40pm CST
Does anyone own a mixed breed dog that thinks is very unique???? I own a rat terrier mixed with a french poodle, what makes him so unique is that he is pretty much a short haired poodle.. I think my dog is very unique cause he has a great personality he is also very energetic.. I have even named his breed i called is a terradoodle... I have a really sad story on why i got my dog teddy bear... I was with my friends and we were driving down the road and we ran over a dog.. Turns out to be my dog teddy bears mother... I felt so bad that i took on of her puppies home with me... I named it teddy bear... I know thats sad that i ran over his mother... So my question is do you mylotters do you have a unique dog that is very special to you???
2 responses

• Canada
8 Aug 08
One of my favorite dogs that I have ever had was my husky mixed with wolf. Yes you heard right. (WOLF). This dog is truly amazing and very portective. He was just like every other dog that we had and have. Very friendly and wouldn't hurt you unless he felt the need to. I love his eyes as well. I will never ever forget a dog with one white eye and one ocean blue eye. It is truly gorgeous.

• United States
8 Aug 08
THats awesome that she has two colored eyes.. My sister had a dog like that its mixed with wolf and He doesn't bark he howls... Which i think it so unique... Thank you for the response

• Canada
8 Aug 08
I think that everyone thinks their pets ae unique. We're crrently pet-sitting the ex-wife's dog, a cross between a border ccollie, and someting else. She almost looks like a coyote, and is BRIGHT ORANGE!!!! She's at my husband's place in Sedona AZ. The rocks there are the same olour of orange, and if Pebbles lays down on the back patio, we can't see her! LOL

• United States
9 Aug 08

You know you are right about that, that everyone thinks there pet in unique thank you for the response