left behind..

Davao, Philippines
August 9, 2008 7:49pm CST
my second daughter who had just left a week ago ask me to visit her nexttime in manila since she thinks she cant go home this coming December( holiday season )this year due to her taking a vacation for a week ..instead of resigning to the company and its a year ending month and she will be busy instead..well its a good idea but im thinking of my children left behind especially my mom..which is 72 years old now..im confused since my daughters and a son decided to go there...what about my mom then??should i left her behind to my brother instead? if i decided to to let her come with us..its then a question of can she cope up with us? i mean surely we do a lot of sight seeing on foot and lots of malling...im afraid its useless for her to do so..and still be left in my daughter's apartment which of course not fair ...what do you think then on this situation??
7 responses

• Malaysia
11 Aug 08
Hello vanities, I think you should leave her with your brother for awhile. It s not a good idea to bring her sight seeing if she can't really enjoy it. I understand how you feel to leave her behind with your brother but I think it is the only option you have. My mother who is 70 this year, stopped following us for traveling as she feels tired easily. When she was staying with me, she will go to any of my sisters' house whenever I need to travel. It is not that I don't want to bring her with me, but it is her decision not to follow me. Normally, I will ask her first what she is going to decide - to follow or to stay behind with another child and she always choose the second option.

• United States
10 Aug 08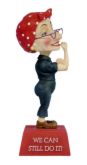 If you are the one that mainly takes care or keeps an eye on your mom then have your brother watch after her and enjoy you daughter on the holidays. If you mom is not ill and or crippled is there a reason she can't keep up with you. I know a lot of 72 year olds and older can out do a lot of younger people when it comes to walking and being active. So if your mom is healthy there shouldn't be any reason she can't keep up if there is room.You could ask her if she wants to go or stay home with your brother if she is healthy. Give her the choice.

• Davao, Philippines
10 Aug 08
yeah my mom is living with me since ..and taking care of her as well..well yeah shes healthy but lately she easily get tired..especially if we go out on malling and i dont think she can cope up since usually its a whole day malling and the likes..anyway i will still ask her about it..thanks for the sharing..have a nice day..


• Philippines
13 Aug 08
I think you should go & spend Christmas with your children in Manila. As to your mom, she will be okey since she could spend it instead with your brother. If I am the one in your shoes, I would rather not bring along my mom who is 72 yrs old because it would be too taxing and stressful for her. As long as she won't be alone and would be well taken care of, then I guess it is fine to be with ones children. I am sure also that she won't get to enjoy the scenery if its just too much exertion for her. She would just end up sick and overtired.

• Lapu-Lapu City, Philippines
11 Aug 08
my opinion to this matter is to leave mother there. manila is too far from your are now. and although you are thinking that she will enjoy being in manila, we can never tell. i guess at her age, she is not fit to be in that too busy city and she may get tired too fast. just my opinion, it is still you to decide.

(neildc @ red/88/1534)


• India
10 Aug 08
Well if your Brother is so caring like you, then i think it is no problem for you, as she could manage for a week or so.. But Vanities, why worry now,.. as it is still some more months for December... Just relax now.. and have a good time..