A true friend is someone to call during good times and bad times..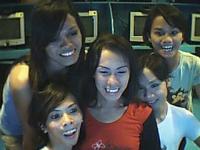 Philippines
August 10, 2008 9:03am CST
That's the true meaning of friendship, what about you? Do you have friends, bestfriends or closed friends?Well i have many many friends and closed friends but my friends are my family..Can you tell who's your friends are?Well tell about your friends here...i have my pic here with my friends ui can also put pic about your friends..
4 responses

• Philippines
10 Aug 08
I have lots of friends and I treat them like family. For every part of my life I have friends and they are so different from each other. when I was working a no. of my workmates and I were close we were a huge group and we called ourselves "Familia zaragoza" (zaragoza family) We had a dad, a mom, an aunt and uncle then the rest of us were the kids... then at school I have 2 bff's I dont know what I'd do without them, I'm the head of an organization at school as well and since most of the members were a bit younger than me I treat them like my younger brothers and sisters and they come to me for almost anything and we have a tight bond... (my orgs name is artistang tekniko or technical artists in english), then for each group I have one or two who are really close to me... My close friends are those that I can turn to come hell or mayhem, no matter how long it's been since we last saw each other, no matter if we dont have contact with each other as long as we need each other I'm sure they'll come asap.

• India
10 Aug 08
i agree with u that, a true friend is the one who calls us during bad or good times, indeed there is a proverb saying that " a friend indeed is a friend in need "

• Philippines
10 Aug 08
that's right!! true friends are always there through thick and thin, for better or for worse. They will never leave you helpless. I also have many friends but only few i can consider as true and sincere. Others are just there when you ae in good shape but when you are in bad times, they rarely be found. anyway, I have a few whom I can consider as legit friends. they are really there for me.



• Philippines
24 Oct 08
hi chinnyskinny yes, i have close friends. we dont see each other often but we know that any time we will be needing each other we are more than ready. take care