Death of Bernie Mac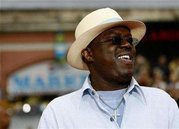 United States
August 10, 2008 12:27pm CST
I was deeply shocked and saddened by the announcement of the death of commedian Bernie Mac on Saturday. I found it even more disturbing since there were rumors going around during the early part of the week that he had died when he had not. I, like most others who was concerned for his health assumed that he was on the road to recovery. Everyone might not have been a fan of his particular brand of raw comedy, but he was a talented personality and devoted family man. It came to light several years ago that Bernie had been diagnosed with sarcoidosis, an inherited disease of the lungs that is incurable. I learned something about the disease through information garnered from a family member who had a friend with it. I guess the pneumonia that he contracted worked against him in the long run. My heart goes out to his family in their time of sorrow.
7 responses

• United States
11 Aug 08
I was shocked when I heard about it on the news, pneumonia isn't something to play around with, it can get very serious, and if you've already got a weak immune system like the lung disease he had, it makes it worse. He will be greatly missed, I also heard that there are two upcoming movies that he was in too, that will be out soon. My prayers go out to his family.

• United States
11 Aug 08
Yes, walijo, I understand that he does have at least one movie due to be released in November. His work will live on.

• Philippines
11 Aug 08
Good day... I have watched him with his several movies like charlie's angels full throttle and the last one with a clip in transformers. He's good and well decent, I'm not familiar with his family background though my heart goes with his family.

• United States
11 Aug 08
He was a decent man and a very talented entertainer, blackmantra_x.

• United States
11 Aug 08
My condolences to the family and close friends that have suffered the loss of a loved one. His talent went beyond his raw comedy. He was an inspiration to all who suffer from medical conditions and want to be successful. Bernie Mac did have a raw form of comedy. However, he kept the old school comedic form alive. He showed the young and up coming comedians that swear words werent funny unless there was a reason for them or they fit into the joke. He kept the memories of Richard Pryor, Red Foxx, and many others alive. Not to mention that he was also know as a family man. He will not be forgotten. dl

• United States
11 Aug 08
You said it all far better than I could, dloveli! Thank you.


• United States
11 Aug 08
I read about this when I woke up this morning. It really is sad. I liked several of his movies. He was a funny man. Only 50 years old too. I was really shocked when I read this news.


• United States
11 Aug 08
I became familiar with Bernie through his comedy routines, moneyandgc, but I also enjoyed his acting.

• United States
10 Aug 08
Yes, it is really sad about his passing. He made it as a star, and he made it to heaven. The news talks about what a great husband and father he was. He met his wife in high school, and they have been married for 25 years, that in itself is a great accomplishment. God Bless his family

• United States
11 Aug 08
My daughter came over last night and wanted me to log onto my computer so she could read about him, sudalunts, and so many people had a lot of nice things to say about the man and the personality.


• United States
11 Aug 08
I agree, sk66rc! He has a movie coming out in November, I think.

• United States
11 Aug 08
Hi worldwise how are you?I did not hear about the rumors but my heart goes out to the family to.I like Bearnie Mac and grandmother loves him.She says he reminds her of my uncle.RIP Bearnie Mac.