What a way to cool!!..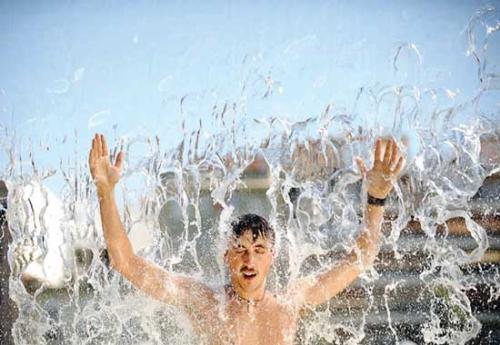 India
August 10, 2008 10:13pm CST
Now the south west monsoon has set in and the temperature has considerably reduced.. and it has brought some kind of relief.. to the ever humid conditions .. I just came across this undated photo.. where a man relaxes.. in a fountain.. Really the man i having a good time.. how do you try to keep cool? For me.. i have no problems as i am in my office for most part of the day...which is fully air conditioned.. and so i could really beat the heat.. And about you.. friends!
5 responses


• India
11 Aug 08
I am glad that you liked this picture.. and by the way.. does it cost more billing... to your AC..

• India
11 Aug 08
Wow, yes, I am glad it is raining again finally! I was getting really worried about my plants and water too. I don't want another summer with severe water shortage. Cheers and happy mylotting

• India
11 Aug 08

We dont have air con at home because i have got wheezing problem so my parents doesnt want me to separate me by enjoying themselves in air-con and decided not to have it instead during the summer season to avoid prickly heat they do use shower to shower,sandal pastes and colne etc to cool themselves, my best suggestion is sandal paste!!

• Philippines
11 Aug 08
Hi saivenkaat802003! Lucky you for being in a fully air conditioned office dear friend! I guess, some guys have all the luck! haha.. My home is not fully air conditioned and I don't turn on my air contition in my room since the electricity cost is too much and as you know I am saving as much as I can. Sigh! It is not really hot here in our area for so many days now. Kinda cooler these days brought about by the rains and typhoons that just loves visiting our country at the moment. haha.. And if ever, it gets a little hot here, I will just shower as much as I can, drink lots of cool drinks and just have the fan turned on. Take care always..God Bless!

• Kuwait
11 Aug 08
Here in Kuwait is really so Hot compare to other Country so going on to the Cool time or Humid is the one part we are waiting for the weather to change so that we could feel better but without Sandstorm is better because here it is very normal during Humid together with Sandstorm so we will not enjoy it a lot.......