What is the most unusual pet you have ever kept and what would you keep

August 11, 2008 12:42pm CST
The most unusual pet i have ever kept is silk moths and tree frogs(not together of course) i was wondering what unusal animals other people have kept,ie birds reptiles insects mammals?
7 responses

• United States
15 Sep 08
I have a taranchula that my youngest son got for me about 2 weeks ago. So far, it has been a learning experience for me. I hope to someday get... A pair of sugar gliders A bat I guess that all kinda unusual pets Thanks for reading, Nocturnica

• United States
15 Sep 08
I am glad that if you end up getting gliders you are going for a PAIR! Shows you are doing your homework. ;O) They are VERY social and really need a buddy. I love my babies so much, but they are a lot of work. Still... I adore them more then life. They are with me all the time. Actually, as I type, they are in my shirt. Nani is being a BRAT, though, and crabbing for NO reason. hee hee. Little punk. Heber thinks he is going to groom me right now...

• United States
16 Sep 08
Oh yes, I do a little studying before jumping into most everything I do, lol I am yet to find any sugar gliders here locally to even look at, so I have never seen one in person, just on TV, web, books... I have a fear of mice, rats, gerbils.... and that sort of thing. SO, before getting sugar gliders, I need to know for sure, they are not going to freak me out or anything. But, from the pictures I have seen, I have fallen in love with them already!

• United States
1 Sep 08
I have a lot of unusual pets, but my babies are my sugar gliders. They are pretty unique, being exotics, they are NOT right for everyone. They are high maintenance but smart and funny and beautiful.

• United States
15 Sep 08
Oh, I just love sugar gliders, I would love to have a pair of them.

• Philippines
13 Aug 08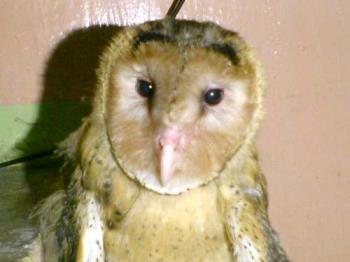 The most unusual pet that I ever kept was an owl-like bird. We found it injured at by the road near our farm so we nursed it back to health. It was still a chick so we had no idea what type of bird it was. It grew up to be an species of owl we were waiting till the animal organization at our location picked him up but then as soon as he learned how to fly he flew out the door and to his freedom. I still miss him sometimes, he often pecked my hair just to get me to notice him. Heres a pic of him...

• United States
1 Sep 08
I once bought a gecko for my third grade class to be owners of. They had to take care of it and learn that as a responsibility. Which was fine until one day we had to do a search on the internet to find out why they loose their tails. Fortunately, we learned that they grow them back. whew!


• United States
11 Aug 08
i had to muscovey ducks.one now....but muscoveys are exotic brazilian birds and they dont quack like other ducks do.they just kinda squeek lol. i love my duck she is so sweet.some times she even comes into the house.

• United States
11 Aug 08
The most unusual pets I have owned are an african pygmy hedgehog and currently I own a russian tortoise. I have had my tortoise now for about three years and I just love her. She is very friendly and has the sweetest little face.

• United States
11 Aug 08
The most unusual pet that I have ever had was just a ferret. I loved him he was so cute and loveable. He was actually my mom and brothers not techincally MINE but he was in the house. He was very cute!